The Masters might be over, but Southwest Michigan celebrates golf year round. Innkeeper/Owner of Goldberry Woods, Eric, is always waiting for the next good weather day that we don't have that much going on here on the property. Now that he retired from his engineering job, he has a little more time to spend of the golf course or at the driving range. For Christmas, his brother, Steve, gifted him an indoor practice setup that has found a home in our Modern Farmhouse Barn, so even on rainy cold days, Eric can practice his swing. Hopefully with Spring here and weather warming up, he won't have to use it much longer. His golf clubs will soon find a home in the bed of his pickup so he can make a quick getaway when the weather is right.
The Golf courses in the Harbor Country area are plentiful. Golfers of all skill, age, and enthusiasm levels can go out and have a memorable experience. With how much we know Eric loves golf, we grilled him for all the dirty details and got all of his personal notes about why he loves the golf courses in the area so much. Here's a list Eric's favorite courses in the area.
The Public Courses:
Price/Round: $60 – $90 Distance From Goldberry Woods: 6 miles Number of Holes: 18
The Woodlands at Whittaker is one of the closest public courses for Goldberry Woods guests to get to, and it is one of the best. This course offers a variety of landscapes throughout the course and in Eric's words "the course certainly has some challenges as the woods come in to play on most every hole. Make sure to have some extra balls (just in case)!" But the course is beautiful non the less and Eric comments on how well maintained the championship course is. With five sets of tees, options are provided for all skill levels. The course also offers a driving range and a large chipping and sand practice area. Feel free to stop at the 19th hole at the course restaurant or stop off at Beer Church Brewing Co. on the way back to Goldberry Woods for some amazing Italian fire-grilled pizza and small batch brews.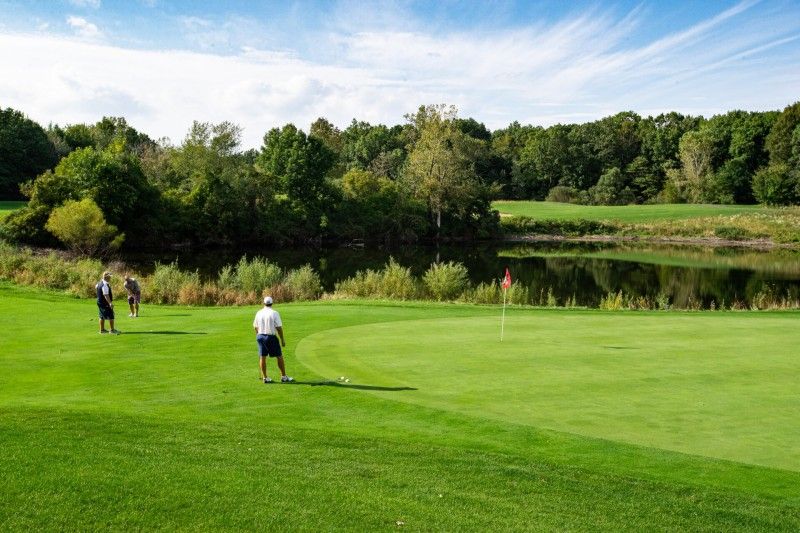 The Golf Club at Harbor Shores. St. Joseph, MI
Price/Round: $100 – $195 Distance From Goldberry Woods: 29 miles Number of Holes: 18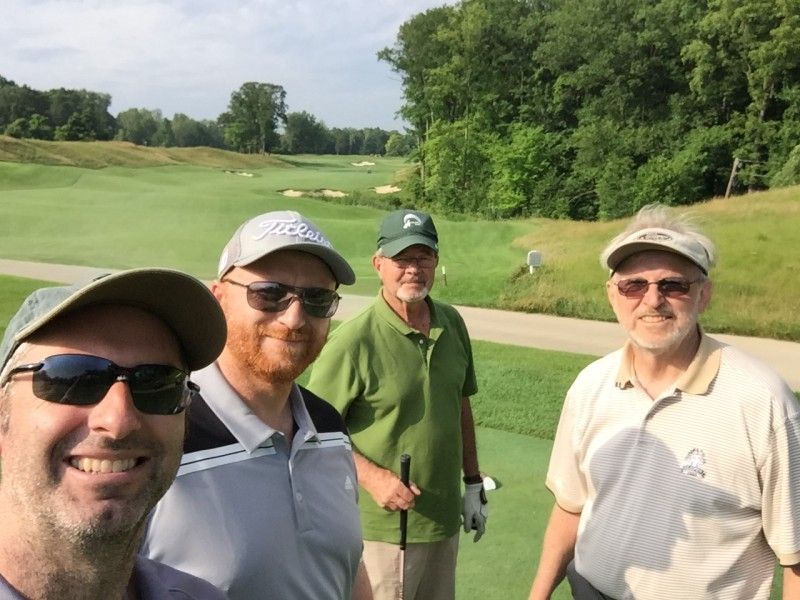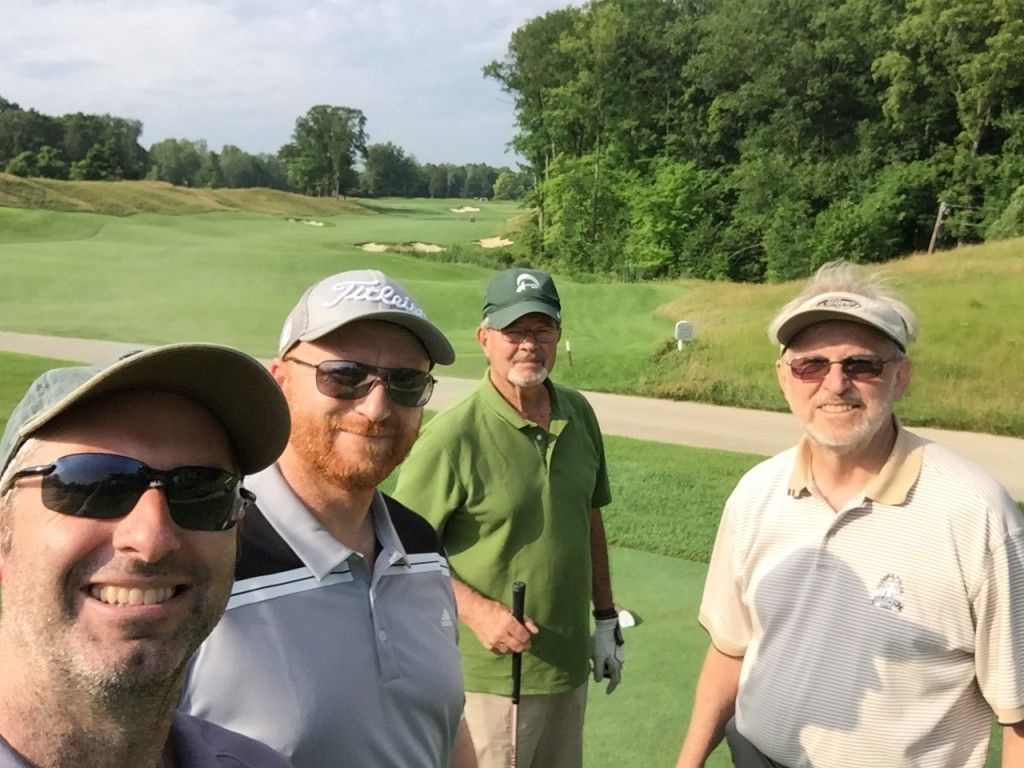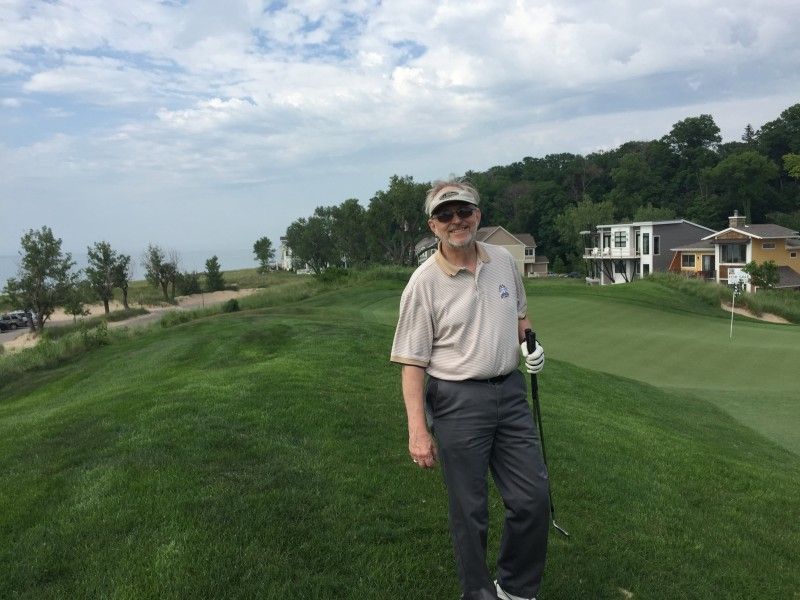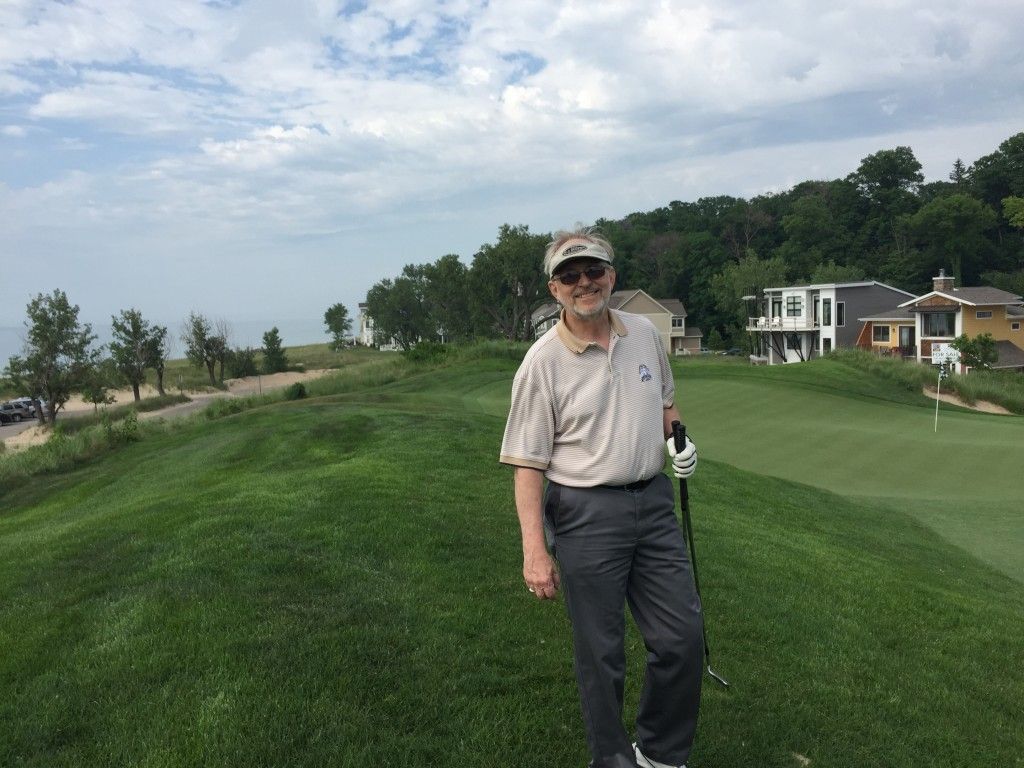 Harbor Shores quickly became Eric's favorite course in the area. We have a painting of the difficult par-4 7th hole hanging in the dining room of the Inn that guests can view as they enjoy breakfast. This Jack Nicklaus designed course, home of the Senior PGA Championship for many years, holds many memories for Eric, including spending Father's Day a few years back with his dad, brother, and father-in-law. Eric loves the course layout and character. The Lake Michigan breezes and views of the lake and sand dunes really capture the feelings of Southwest Michigan and what it has to offer its visitors. Golfers can also enjoy how spread out this course feels as each breathtaking hole is unto itself. With multi-tiered greens, marsh island tees, woods and ravines, this course has a large diversity of landscape to enjoy. After a round, stop by North Pier to enjoy a bite and a beer at one of our favorite craft breweries in the area.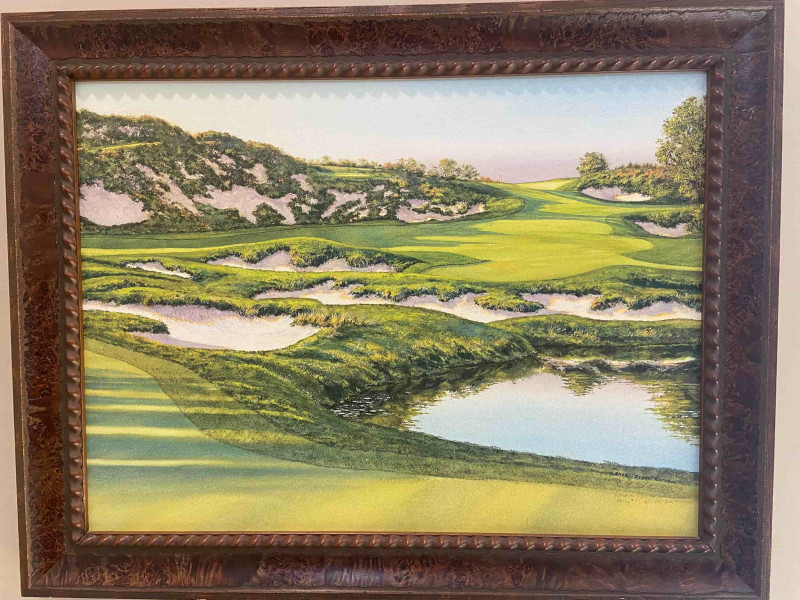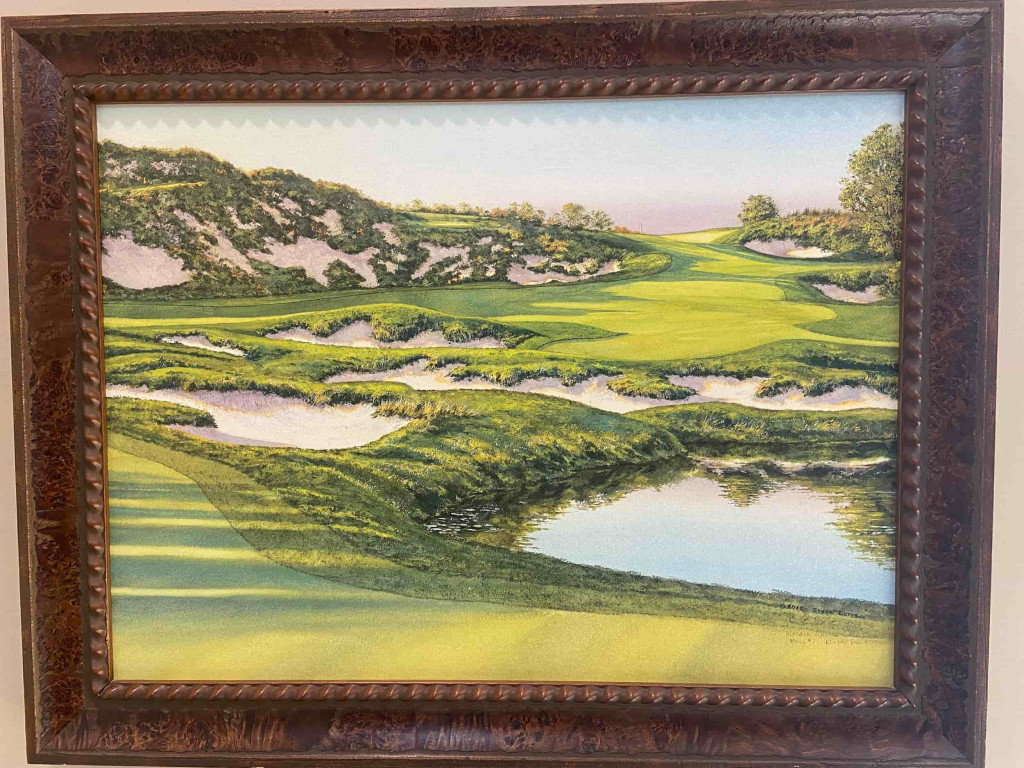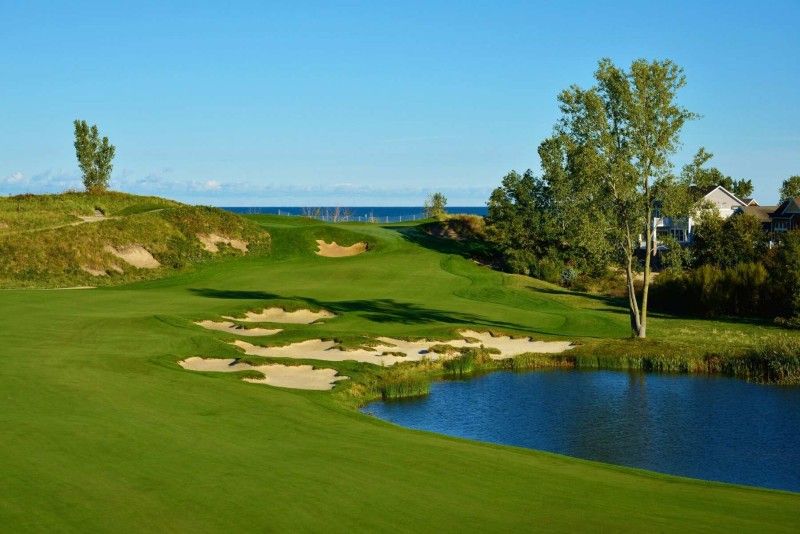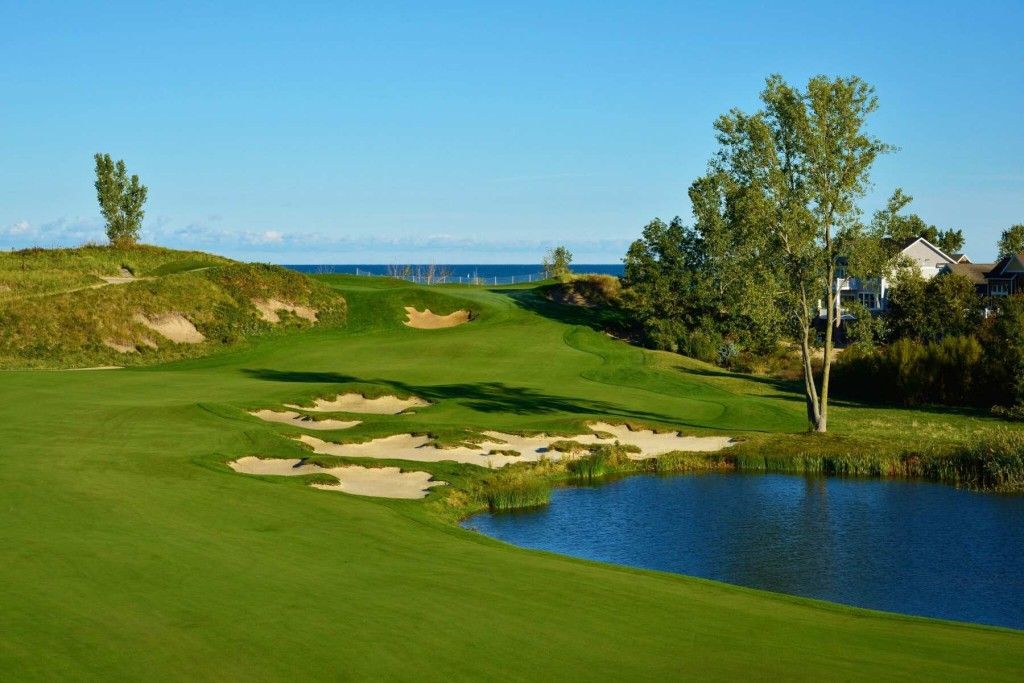 Price/Round: $30-$35/9 or $40-$45/18 Distance From Goldberry Woods: 6 miles Number of Holes: 9
Closer to home, this 9-hole par-35 course offers Goldberry guests and locals another option in the area. Eric comments on how the course has some unique features. For example, play ends with not one, but two blind par 3s on the 8th and 9th holes (with hills that keep you from seeing the green from the tee!). But this course also can offer some forgiveness that can make for an enjoyable day of golf. Play a different set of tees for a new experience on the "back 9." You can make a stop at Ghost Isle Brewery afterwards for lunch or dinner along with a craft beer.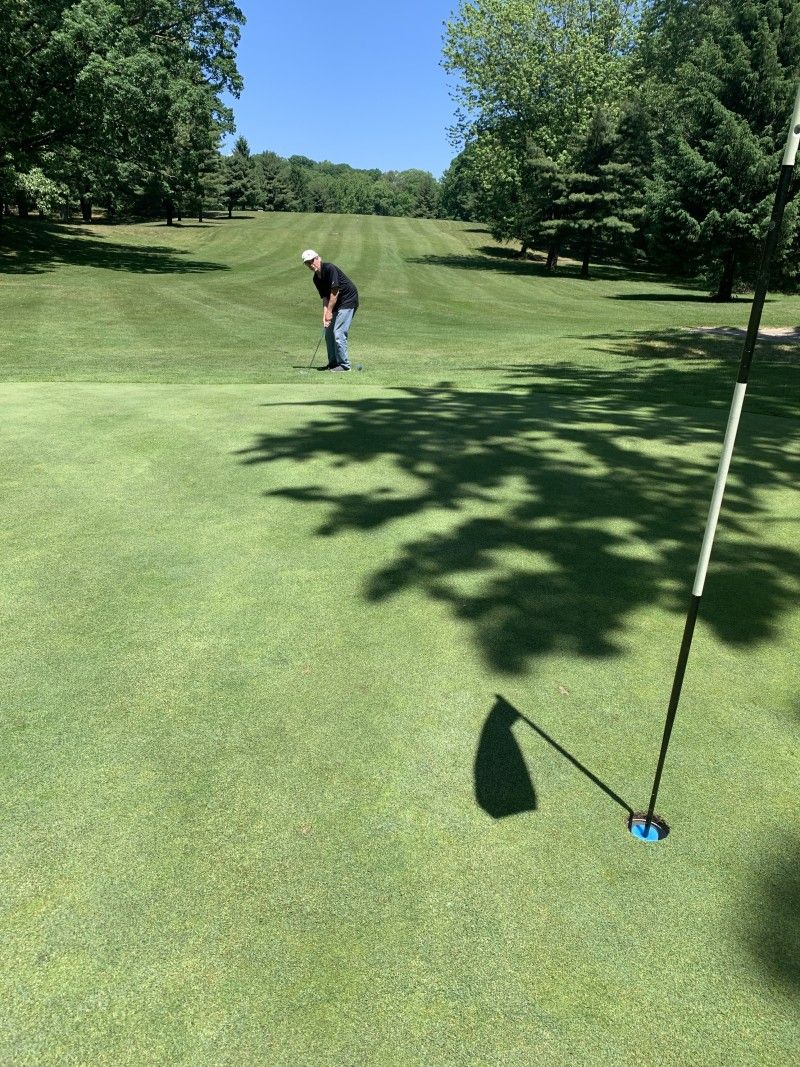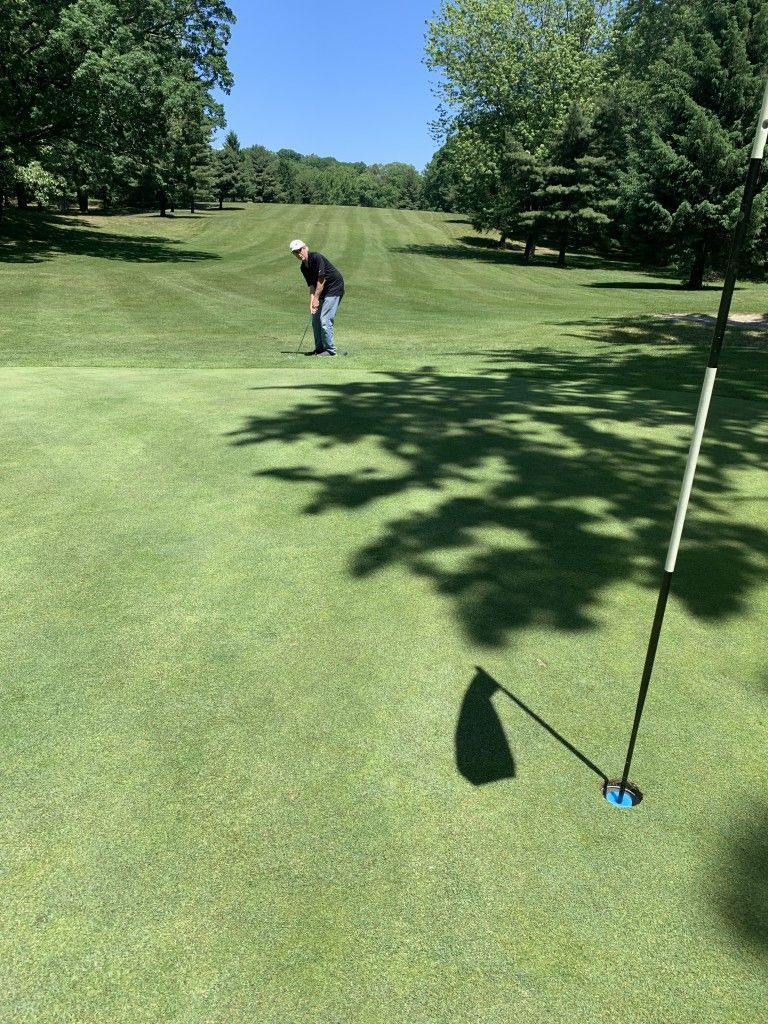 Price/Round: $30 – $50 Distance From Goldberry Woods: 16 miles Number of Holes: 18
Eric describes Legacy Hills as his favorite course for the value and diversity of play. This 18-hole course advertises itself as the oldest, yet one of the newest, courses in the state. Each of the 9 holes has a completely different feel because the back 9 was added 100 years after the course opened. The front 9 holes offer a more traditional golf feel, while the back 9 holes are further spread out with more diverse terrain and vistas. Golfers comment on how interesting it is to see the difference in the two halves of the course. Eric loves how the 12th hole is a par 3 that drops down a huge hill from the tee to the green, which makes club selection challenging. It is easy to recognize that Eric loves courses full of character and beauty. Be sure to stop at Seedz Brewery in Union Pier too, just a few blocks from Goldberry Woods.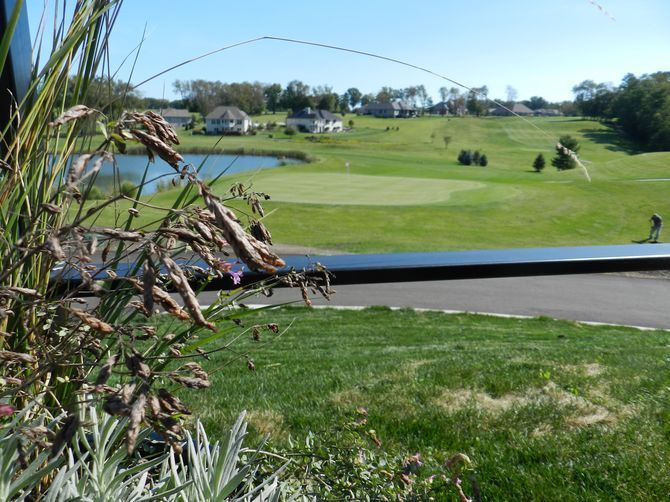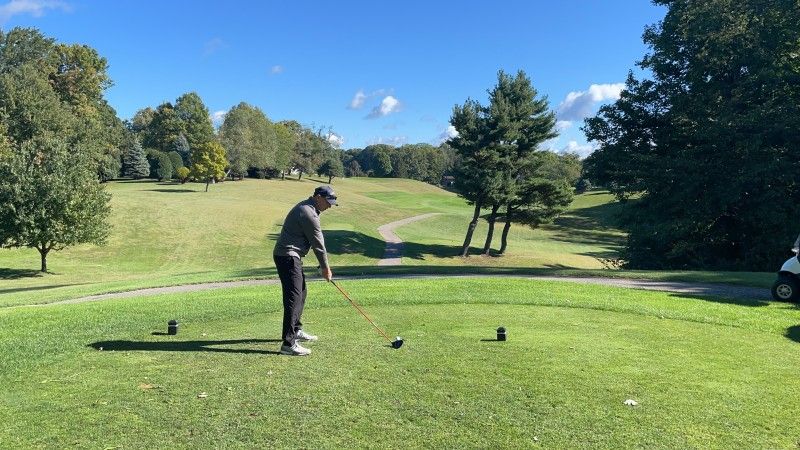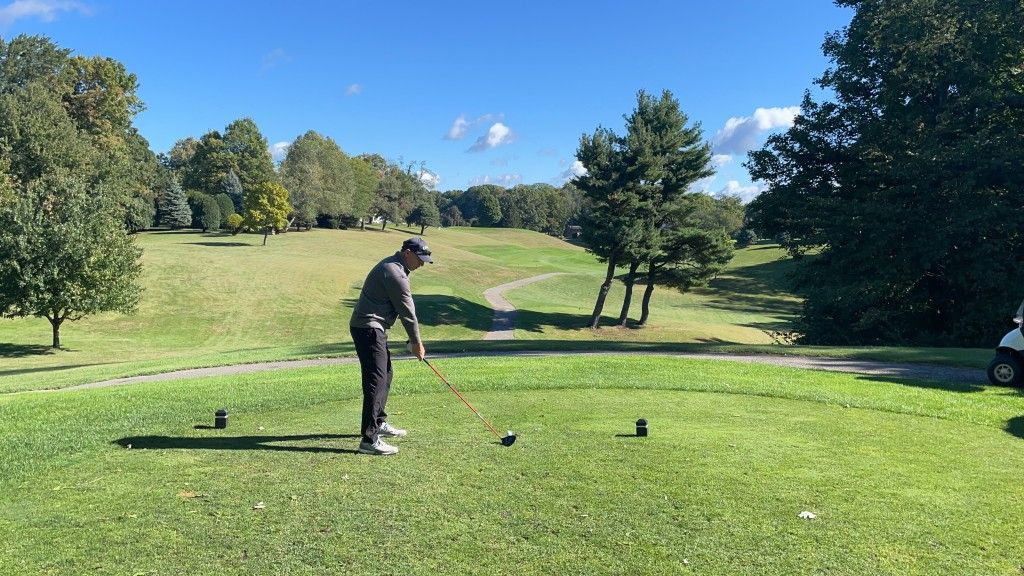 Price/Round: $30 – $45 Distance From Goldberry Woods: 11 miles Number of Holes: 36
This course features a typical length par-72 18-hole course as well as a challenging par-60 18-hole Executive course. Eric comments that either course is fun to play and are both great values. Michigan City offers a variety of restaurants to stop at after a round of golf with your buddies. Nearby breweries include Shoreline or Zorn Breweries, and feature great food and craft beer.
Price/Round: $30 – $45 Distance From Goldberry Woods: 12 miles Number of Holes: 18
Located in Bridgeman, this course is also pretty close to Goldberry Woods. With a total of 18 holes, this picturesque course does a better job of catering to higher handicaps. If you have kids interested in golfing with you during the day, this might be the course for you. Reasonable prices are offered at this course as well, making it a good option for travelers who want to play golf, but don't want to break the bank. Nearby spots for food and beer include Haymarket or Tapistry breweries in Bridgman, as well as Greenbush Brewery in Sawyer. All have fantastic options.
The Private Courses:
While you need to have reciprocal rights from your home course or simply know somebody who knows somebody to usually get into a private course, we wanted to include these so golfers know all of the golf options Southwest Michigan has to offer.
The Dunes.  New Buffalo, MI
Distance From Goldberry Woods: 1 mile Number of Holes: 9
The Dunes seems to hold it's own secrets. You can drive by and not know the course is there. With a discreet entrance, no signage and no website, it makes it hard to find. Ranked routinely as the #1 9-hole course in the entire country, it is only a mile away. Hidden in New Buffalo, this course taunts Eric because of how close it is, yet how difficult it is to play. Eric was privileged enough to play with some guests staying here at Goldberry Woods and was thrilled to finally see what he had been missing. The course is spectacular and Eric describes the course as nothing short of amazing. No carts are allowed–just walking with caddies. With tons of sand traps and dunes, this course offers some challenges because it was built on a sand dune. The course also features rolling hills and views of Lake Michigan from a couple of holes. For golfers who wish to play 18 holes on this 9 hole course, the "back 9" is completely different as the tee locations and hole locations change to provide a different experience.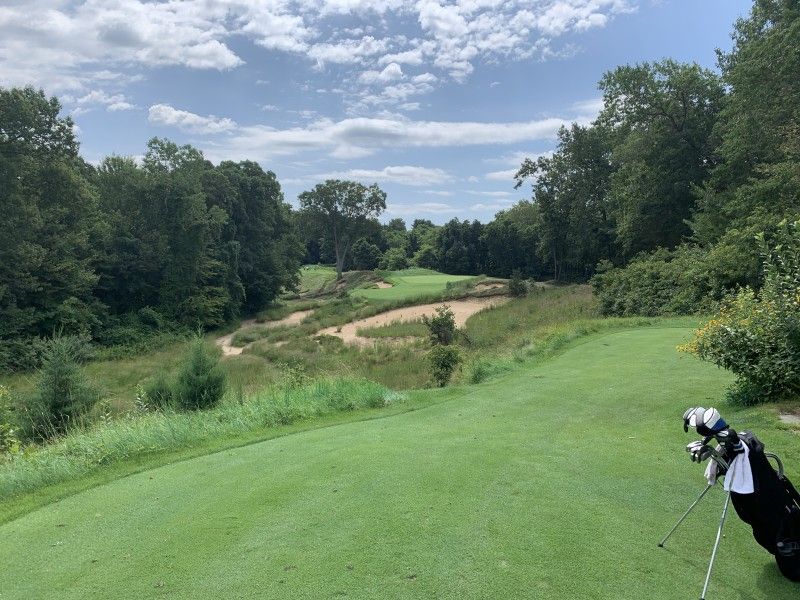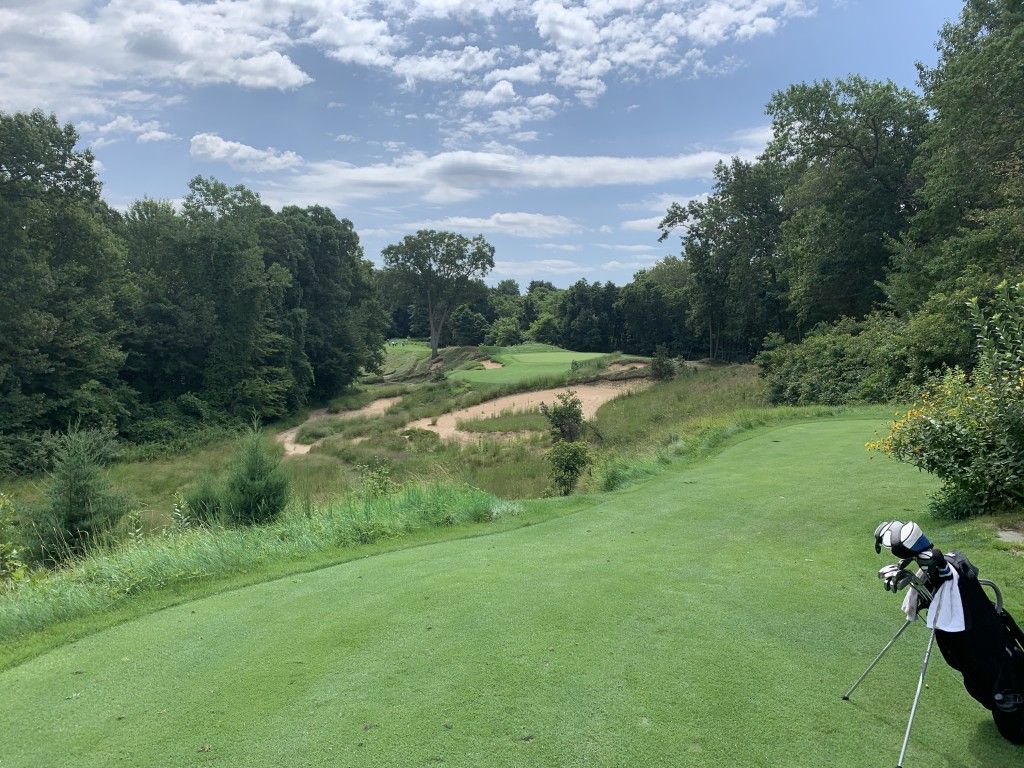 Distance From Goldberry Woods: 2 miles Number of Holes: 18
Another one of the closest courses to Goldberry Woods is Chickaming Country Club. This local country club offers an 18 hole experience in Lakeside, MI. Built in 1913, this was one of the first golf courses in Southwest Michigan. Over the years, this course has grown and developed into a fabulous course, featuring the best natural features Harbor Country has to offer. Eric loves this course with its tree-lined fairways, ponds, and small old-style greens. The "Shakespeare House" clubhouse is beautiful too.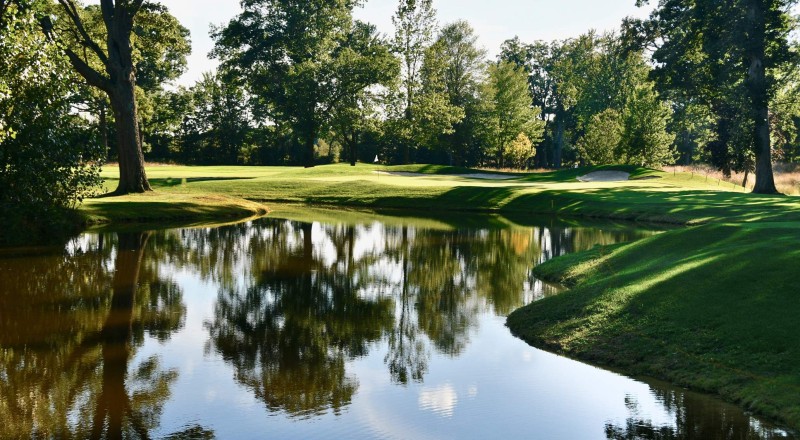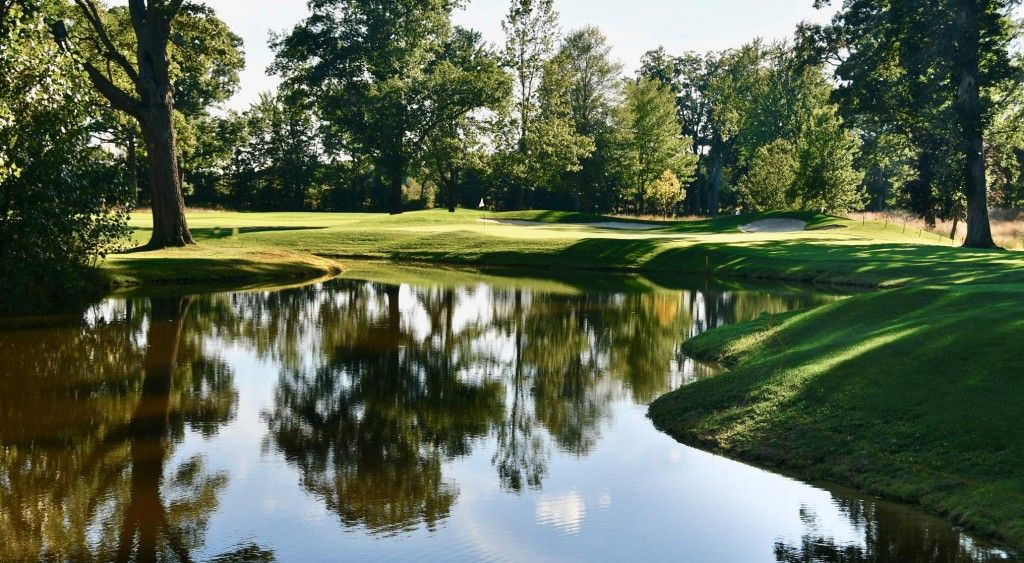 Distance From Goldberry Woods: 11 miles Number of Holes: 18
Located in Bridgeman, MI, The Lost Dunes is hard to miss while driving down Red Arrow Highway. Very large stone gates mark the entrance to this course. Their website describes a "privileged golf experience" ranked as one of the best courses in the state and previously ranked within the top 200 golf courses in the country. With panoramic elevated tees, the views this course offers are breathtaking.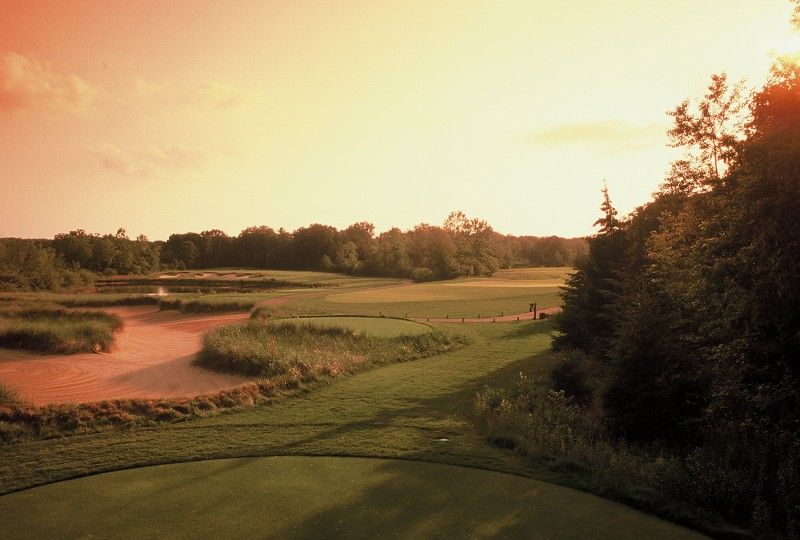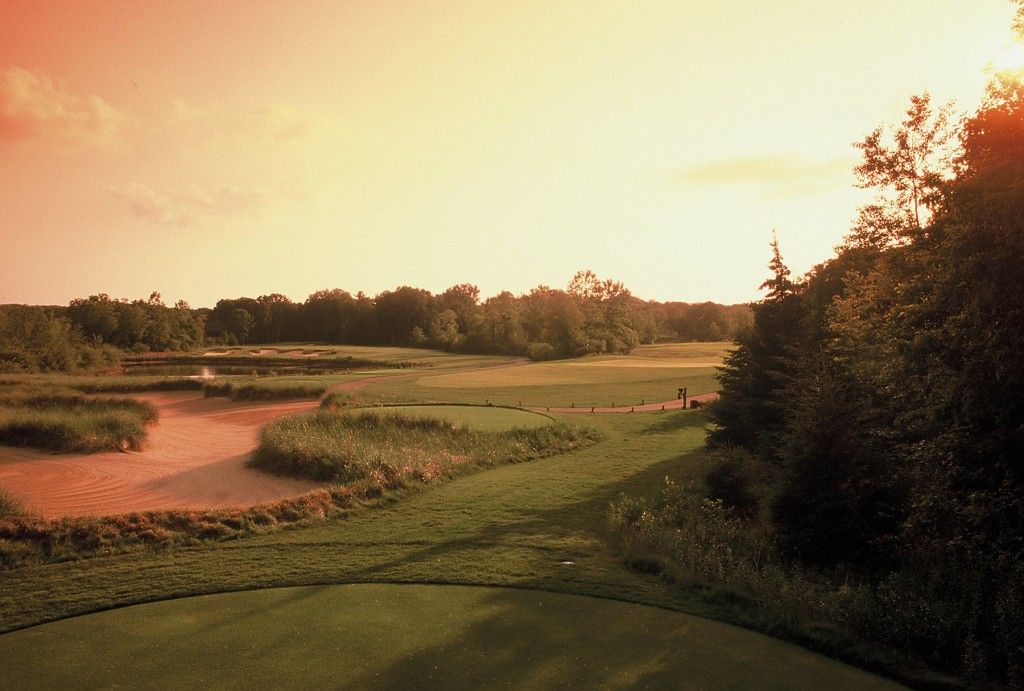 If full sized golf isn't your style, Journeyman Distillery has a putting green attached. This 30,000 square foot public putting green features 18 holes that are dramatically mounded to mimic the famous Himalayan Putting Green in St. Andrews, Scotland. Open to all ages!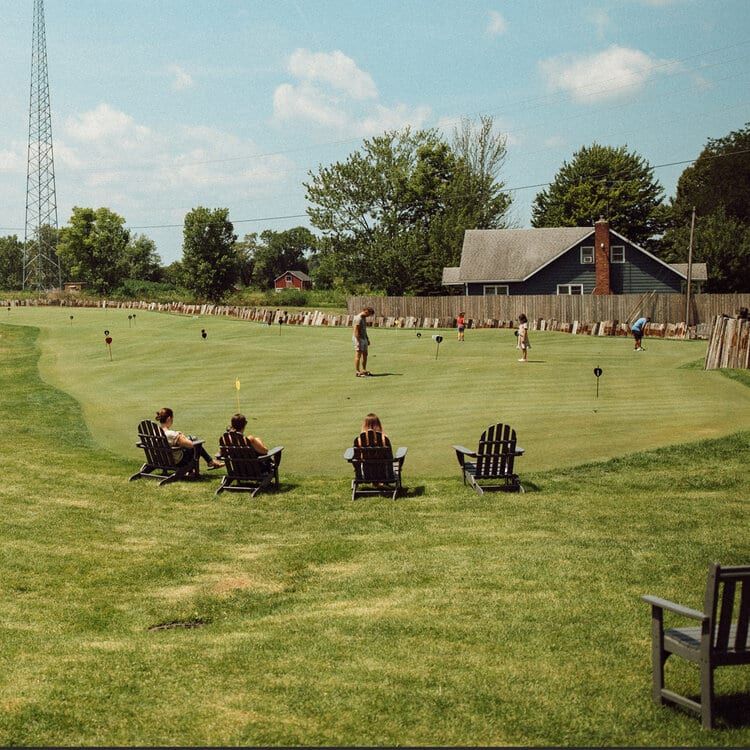 With Father's Day and warmer weather ahead of us, line up the dads, the bros, or your enthusiastic group of friends and load up the clubs! Goldberry Woods and Harbor Country are ready to play host to anyone interested in hitting a few golf balls and enjoying what our area has to offer! Pick out one or even more of the courses in the area to enjoy, sling your clubs over your shoulder or into the cart so you can crack a local craft brew!