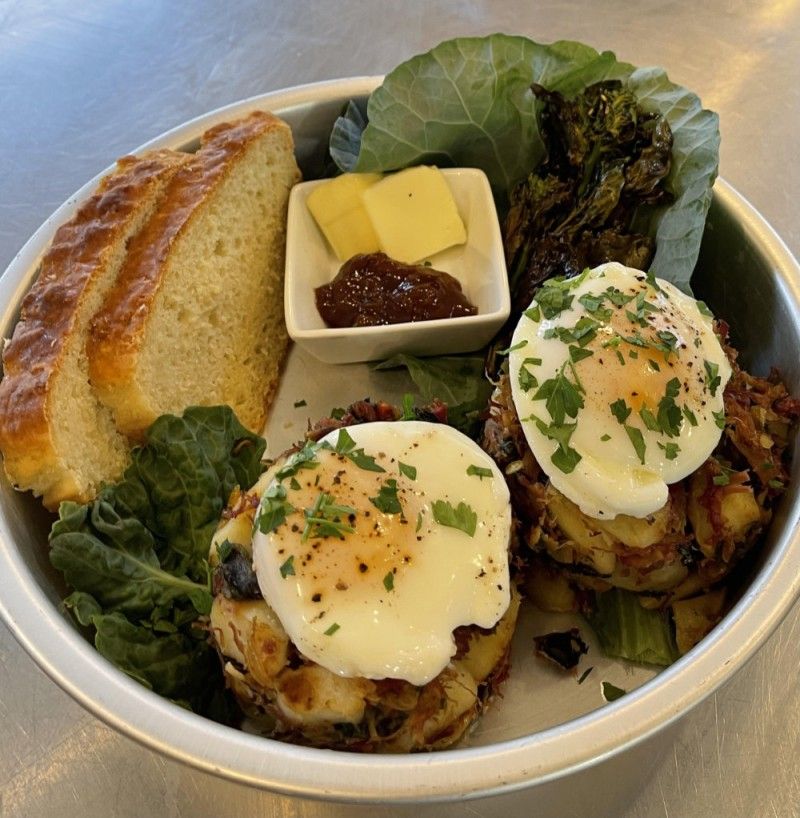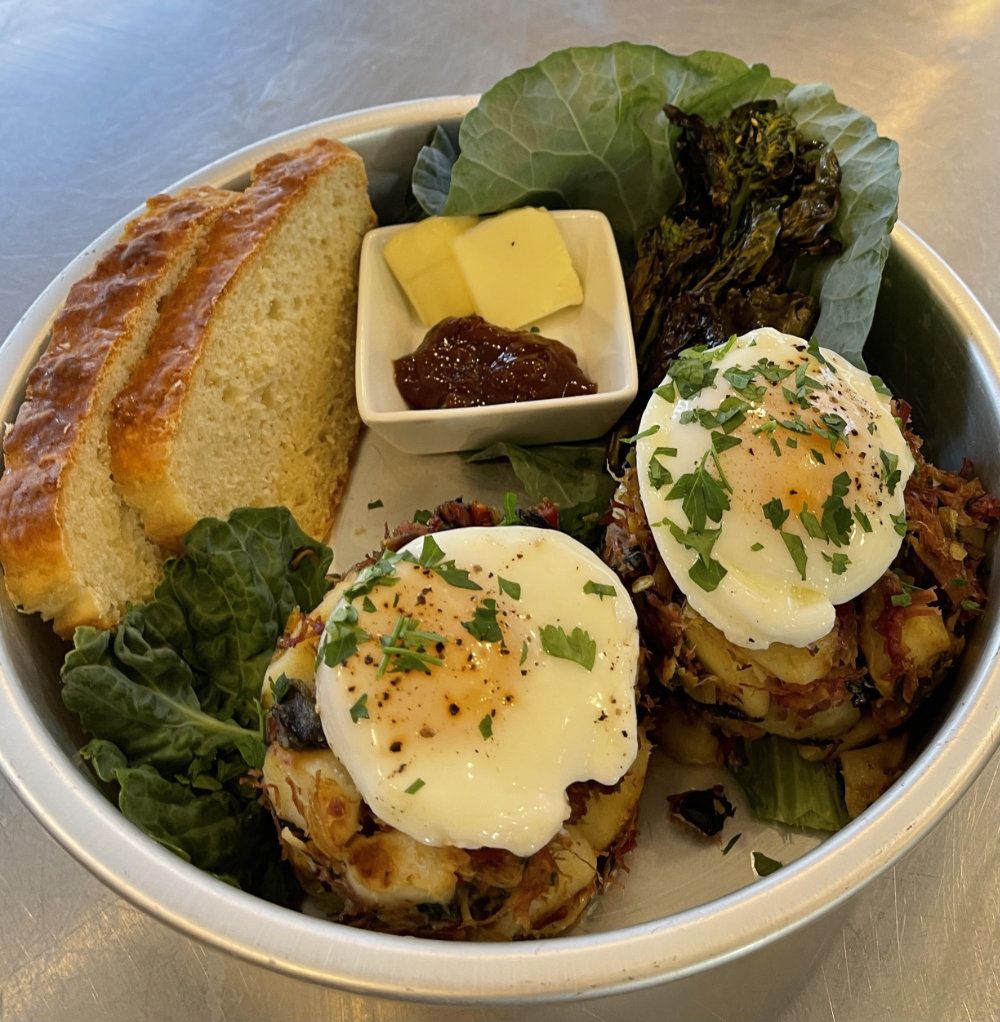 In an adventure to create our annual Corned Beef Hash, we decided to brine our own beef brisket to celebrate Saint Patrick's Day and serve our guests one of our favorite dishes. Our Assistant Innkeeper, Carly, has brined her own corned beef brisket before, and we decided that creating this dish completely from scratch would make it even better! We acquired our Brisket from Falatics, a local meat market, and got to brining!  Serve it alongside some Irish Soda Bread and homemade jam!
Prep: 30 Min
Cook: 15 Min
Total:  45 Min
Brine Ingredients
1 Gallon of Water
1 1/2 Cups Kosher Salt
1/2 Cup Brown Sugar
1/4 Cup Pickling Spices
4 Teaspoons Curing Salt (Or Pink Curing Salt)
1 Beef Brisket (5 – 9 lbs)
Supplies
Large Stock Pot
Air Tight Container Big Enough for your Brisket
Room in your Fridge for Storage
Instructions
Prep your Brisket. You want to unwrap your fresh beef brisket and trim off any excess fat. Some fat is okay, but you will notice some thicker parts that can be trimmed or cut off.

In a large stock pot, combine the water, salts, brown sugar, garlic, and Pickling Spices. This will be your brining liquid. Bring the brine to a simmer and stir until the salt and sugar have dissolved completely.
Cool your brine to room temperature.
You want to use an airtight container that will hold both your brisket and enough brining liquid to cover the brisket. We used this Rubbermaid Container to hold our 8lb brisket perfectly.
Once your brine is cooled completely, you can poor the brine over until the brisket is completely submerged.

Ideally you want to brine your brisket for at least 10 days in your refrigerator.

Now that you have your perfectly brined corn beef, it is up to you to decide how you want to cook it up. Julie prefers her pressure cooker and sets it to high pressure for one hour before venting.  She added 2 cups water, 1 cup brine solution, and the pickling spices.   Carly has always boiled her corned beef with 1 Cup of Brine, the reserved pickling spices from the brine, her potatoes and cabbage.
Here at Goldberry Woods we used our Corned Beef to make our annual Saint Patrick's Day Breakfast of Corned Beef Hash and Irish Soda Bread. We took our shredded Corned Beef and Griddled it with Boiled Potatoes, Roasted Red Peppers, Ancho Peppers, Leeks, and Parsley. We then topped each Hash with a perfectly poached egg! Yum!