We would love to introduce you to the newest lodging option at Goldberry Woods! We have lovingly restored two vintage Avion campers and settled them beneath our mammoth white pines at the edge of our ancient organic orchard and high native prairie meadow. They are an oasis of comfort and relaxation, surrounded by nature and named to fit right into their new natural surroundings. We have been obsessed with vintage campers for a very long time, so we are so excited to be adding these beauties to Harbor Country right here in Southwest Michigan!
Meet Flora: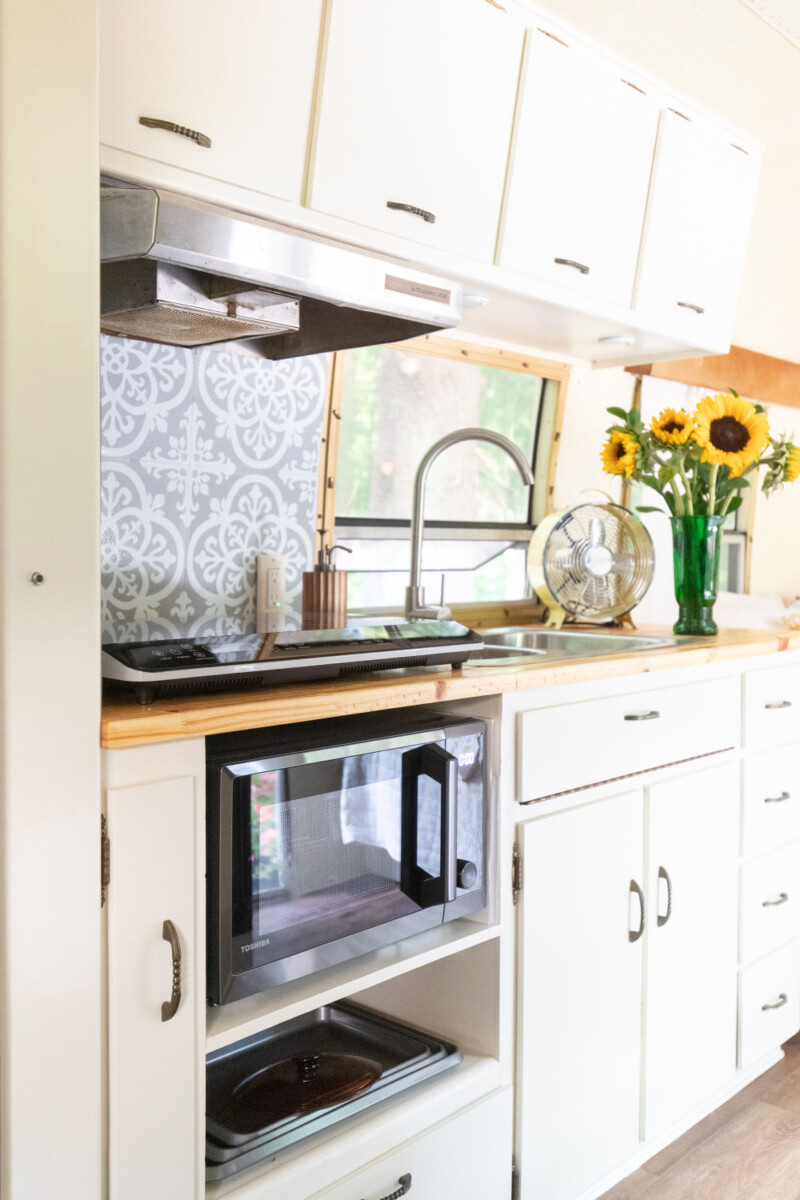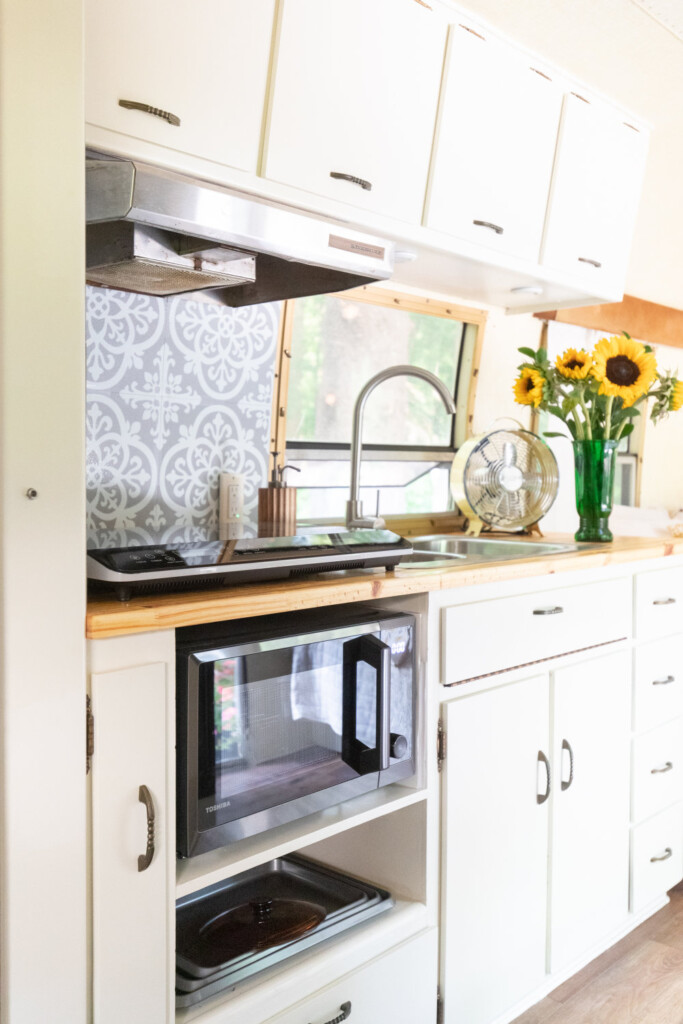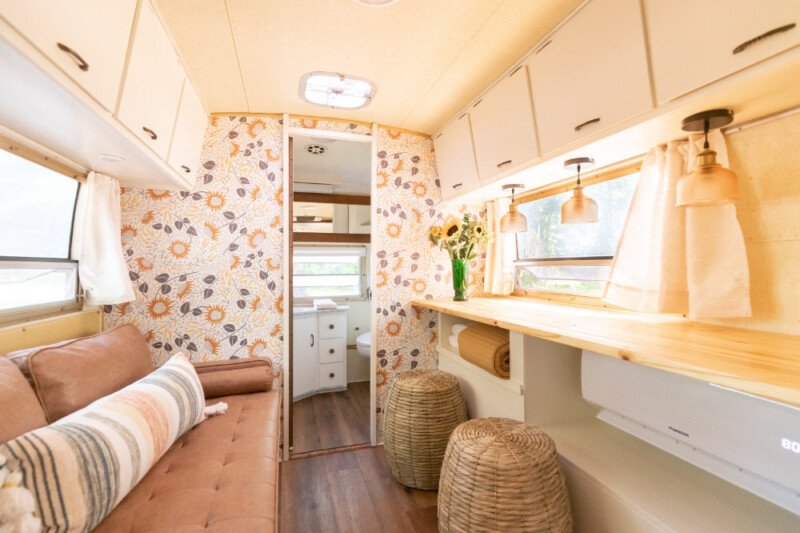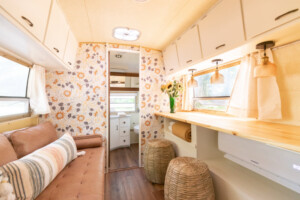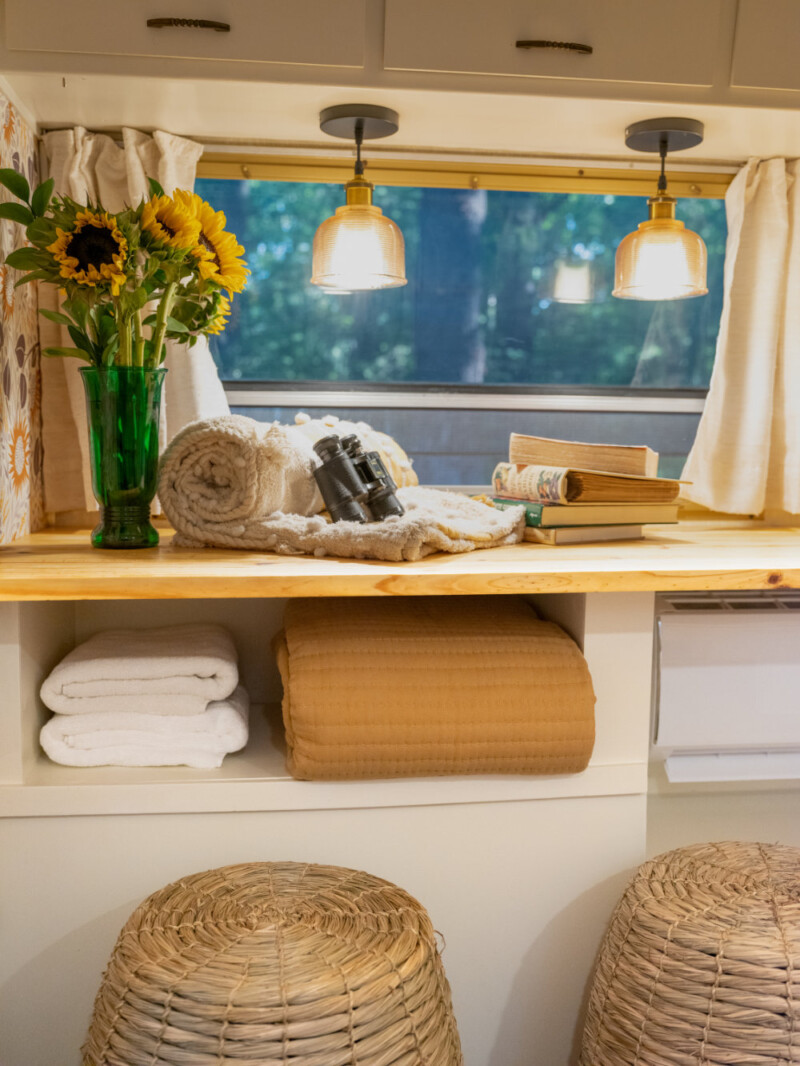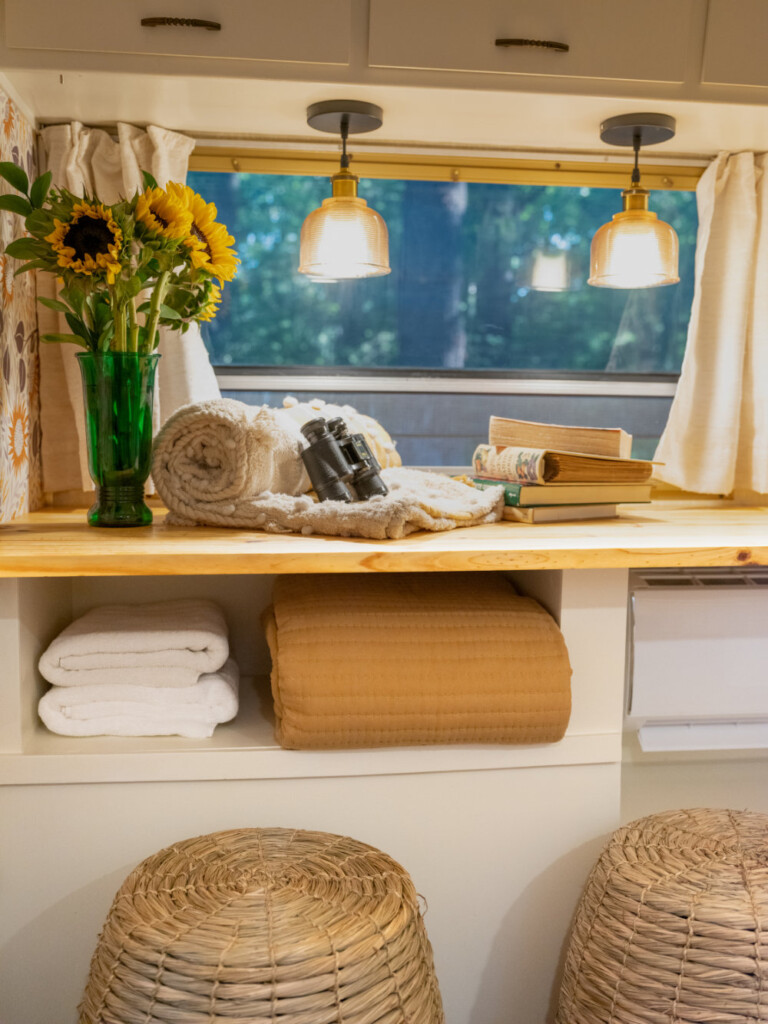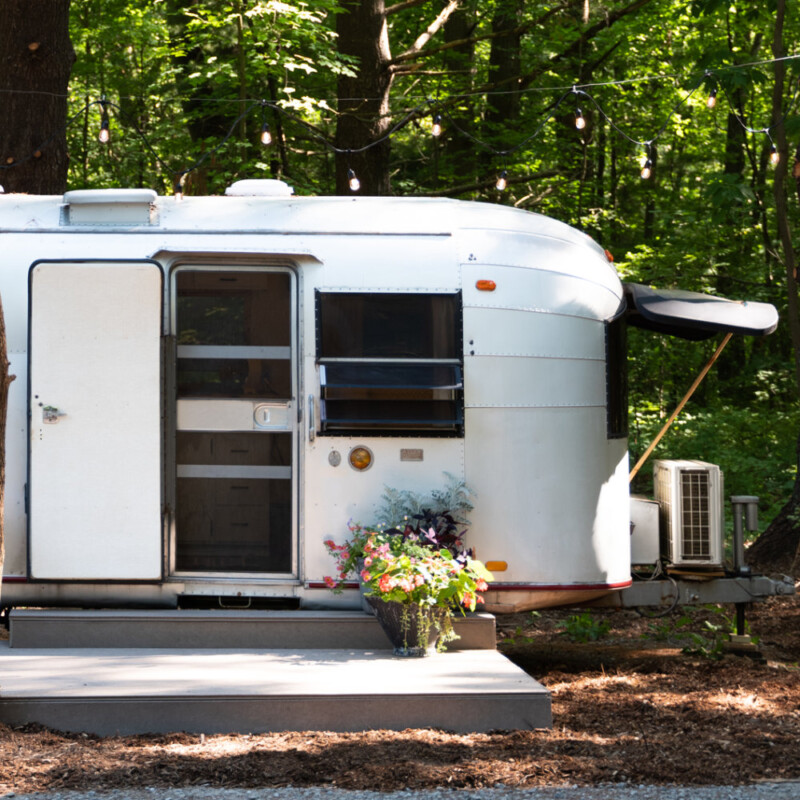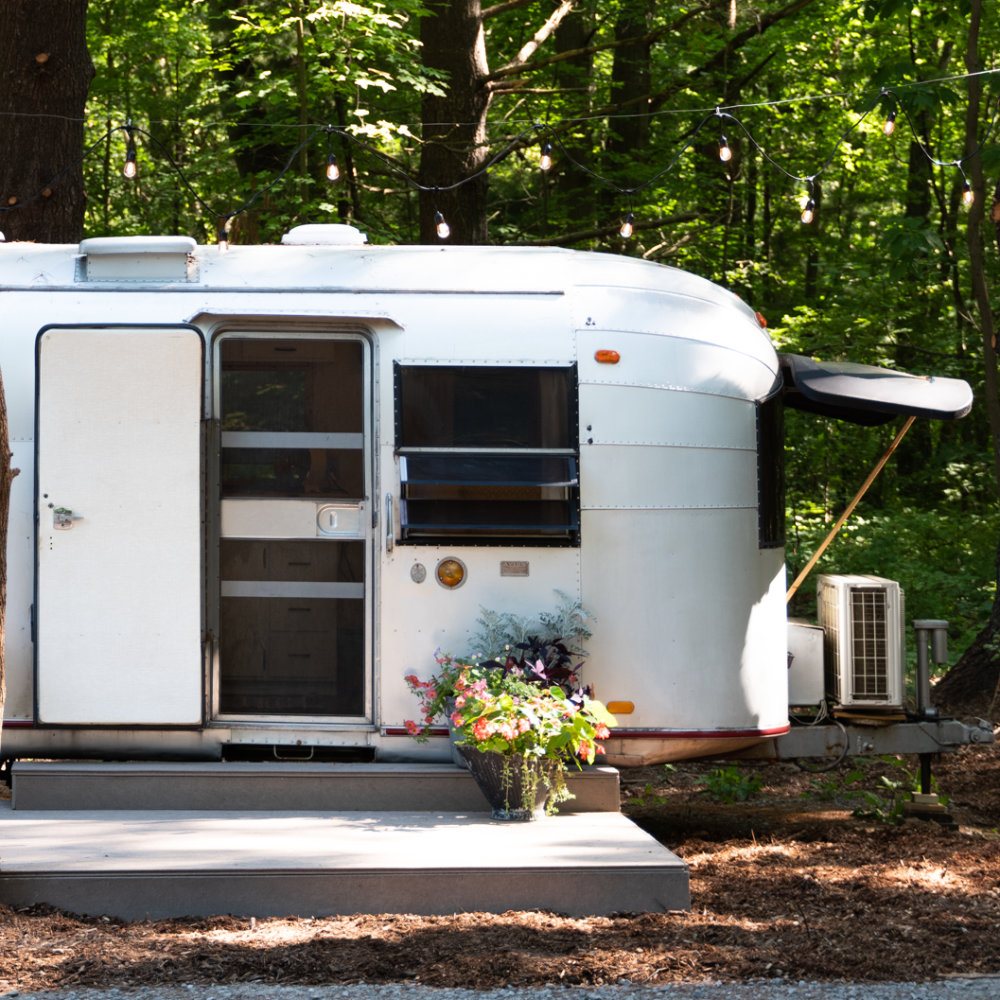 "The earth laughs in Flowers" -Ralph Waldo Emerson
Our sweetest Flora is a 1971 Avion Camper. Her people used to love to take her on all kinds of adventures, but they had grown tired of her upkeep and left her sitting lonely. We lovingly restored her with our own hands, adding modern sunflower prints, a Mid-Century sofa, and bright Boho details. She is absolutely glowing from all the pampering, and she cannot wait for you to come visit and remind her what a true flower she is!
Meet Fauna: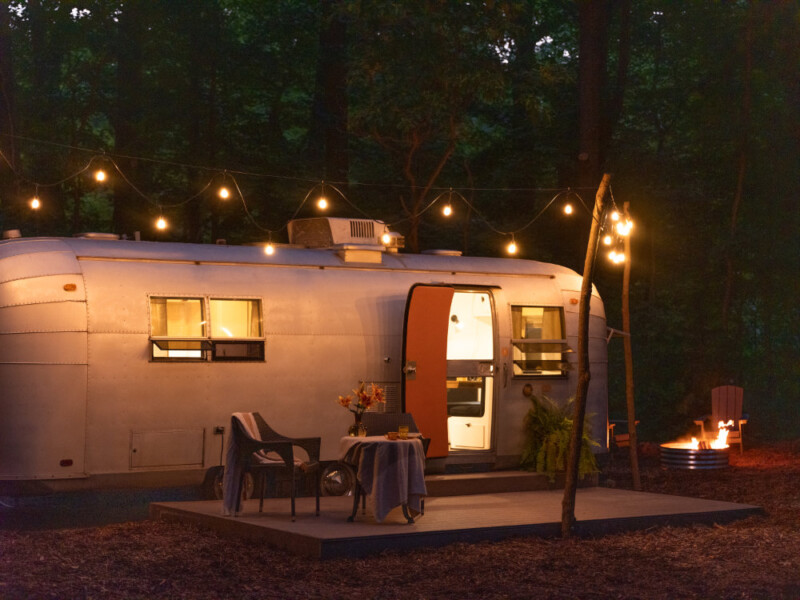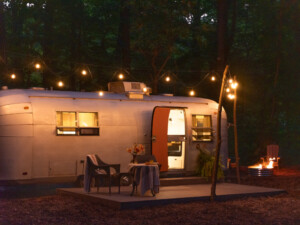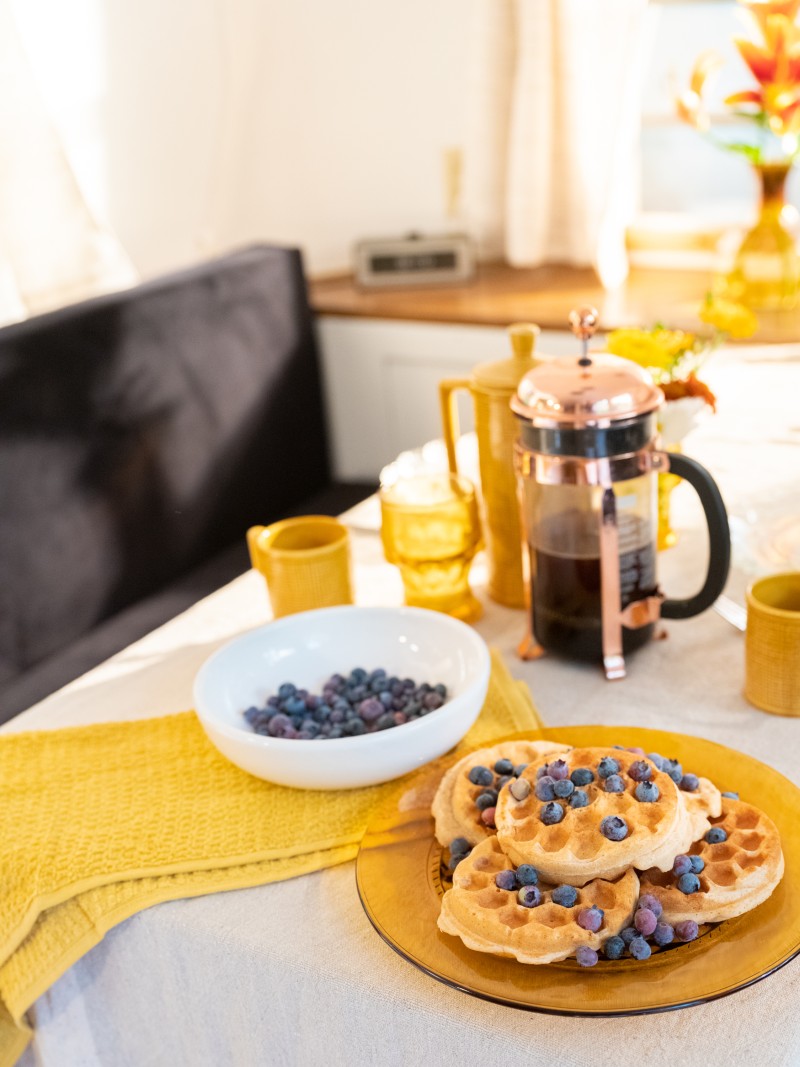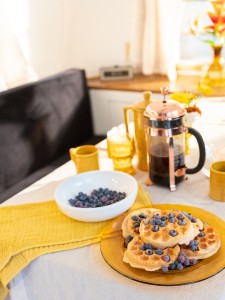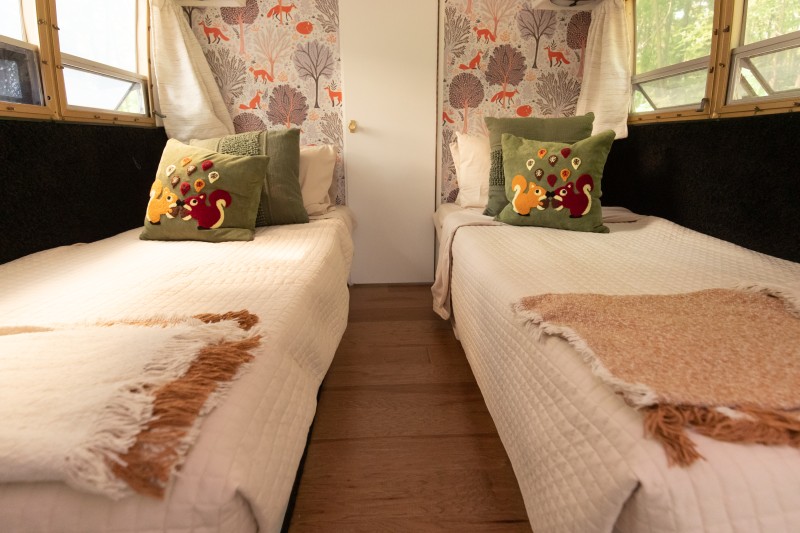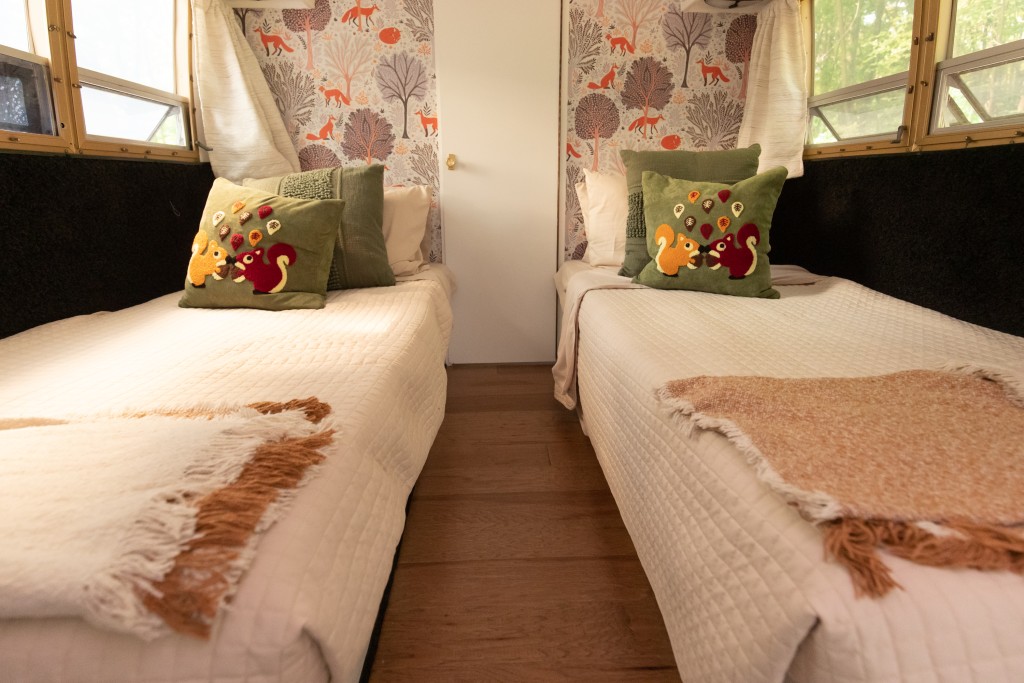 "The clearest way into the Universe is through a forest wilderness" –John Muir
Our dearest Fauna is a 1969 Avion. She is our goddess of the forest, and you will sneak peaks of many of the woodland creatures you can find in our woods in her décor. A woman and her ex-husband (?!?) began her renovations, but we labored over her details so that she would know that Goldberry loves her through and through. She is bright, friendly and eager-to-please, and she hopes you will come and stay awhile, enjoying her comforts while looking out upon Goldberry's Woods.
Glamping is trending all over the place, but we invite you to come and vintage camp the Goldberry way. Each of these campers sleeps two guests (12 years and up) and are stocked with the best of the best amenities. Air conditioning and heating in both campers keeps you prepared for any type of weather. Full bathrooms are stocked with our luxury bathroom towels and PAYA organic soap, shampoo, and conditioner. City Water and Sewer with super-sized hot water heaters allows you to shower and flush ALL YOU WANT! These ladies are zero maintenance for our guests! For an extra charge, you can even bring your pup along since we are officially pet friendly!
Flora has a queen sized bed and Fauna has two twins, and they are all made up with our fine quality linens from Comphy (Camping doesn't need to be rugged at Goldberry Woods! You will love these so much you will want to take a set home with you). Want to cook a scratch meal?? The campers have a refrigerator, induction cooktop, convection microwave, AND a kitchen stocked with pots, pans, dishes, and utensils. Enjoy that homecooked meal at a Booth-Style Breakfast Nook (Fauna) or Breakfast Bar (Flora) that could also double as a beautiful work-from-camper space. Or, just relax and carry out from any of the fantastic dining options we have nearby.
The outdoor spaces for each camper are even set up to enjoy! A deck with table and chairs is adorned with Edison String Lights to enjoy each other's company or revel in stunning views of Goldberry Woods. Enjoy an outdoor firepit with firewood, 2 adirondack chairs, S'more sticks, and a perfect view of the stars. Each camper also has a Gas Weber Grill and Tools.
Camping guests are welcome to use all the amenities of our Modern Farm Resort. You can explore our farm, orchard, Market Stand and our friendly flock. You can borrow bikes, kayaks, and beach supplies. Swim in the pool or soak in the hot tub. Or simply explore our 25 acres of woods.
Both Avions were built just up the road in Benton Harbor, Michigan, so you can say that they are "locals." They were manufactured from 1955-1990, and while they are less known than the comparable Airstreams, they were constructed more sturdily and with better insulation. They were an absolute delight to restore and decorate! Julie never thought she'd be able to use that fox wallpaper that stole her heart!
We are so excited to share these campers with new and return guests to show them yet another side that Goldberry Woods has been dreaming to have for a very long time. We are so happy that these vintage ladies are part of our lineup and are ready to book book book them up! Come check them out!