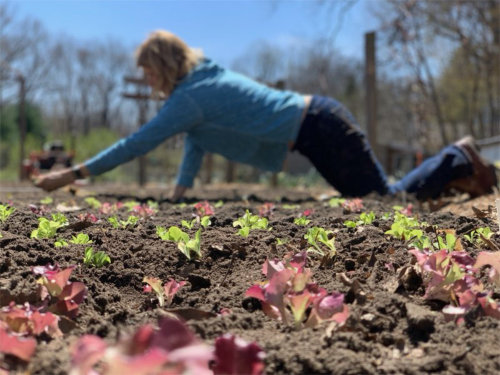 Where Imagination Thrives
Our extensive grounds contain shared spaces for relaxation, adventure and learning. While one guest explores the dense summer forest, another kayaks downriver from the Landing. Conceived as a fully functional microfarm, our 30 acres are full of activity zones where nature and people come together. As plants mature in the Greenhouse nursery, fresh fruit grows ripe in the Orchard. The Farm is a study in light and harmony, where life and living merge sustainably. Goldberry Woods Farm is a retreat unlike any other.
The beauty of micro-farming is the ever-changing abundance of annual and perennial vegetables and small fruit. No season is the same, but each delights with new additions and old favorites. In our thoughtfully curated fields, you'll find asparagus, peppers, heirloom tomatoes, beans, peas, lettuces and brassicas, and small fruits. The list goes on and on!
Our best horticultural ideas begin in the greenhouse—part plant nursery, part micro-farm laboratory. As young plants grow, this provides shelter from the elements and a controlled environment to support maturation, from seed to sprout. Here, guests ask questions and learn the craft and science behind the Goldberry Woods philosophy.
Three cold frames provide a continuous supply of winter greens, root vegetables, and brassicas (that's farmer-speak for broccoli!). Late winter begins the process of seed starting both for the fields and the hoophouse. We plant many of our annuals in the soil of the hoophouse in order to get a jump start on summer produce and extend the season!
Shop our adorable Goldberry Market, set inside a vintage camper! We feature our own organically grown produce and flowers along with local art, Goldberry merch, resort necessities, and cool vintage stuff. Open to guests and the public 10 AM-5 PM.
Tomato, Pepper, Herb, and Flower Seedlings
Vintage Succulent Planters
Cutflower Bouquets and Vases
Annual Herb and Flower Planters
Annual Vegetables including heirloom tomatoes, peppers, cucumbers, and herbs
Novelty vegetables including yardlong beans, cucamelons, and squash flowers
Perennial vegetables including sunchokes and asparagus
U-Pick berries in season
Orchard fruit including cherries, apples, and pears
Our staff is usually available assist with your purchases, but there is also a self-serve honor box and Venmo at the stand.
At Goldberry Woods we have worked diligently to cultivate an environment that welcomes all creatures, great and small. Our lush organic gardens feature different species of flowers to provide bloom Spring through Fall. Fresh cut flowers are available for purchase seasonally as well. Come take a stroll through our organic gardens and enjoy the bit of wildlife!
Our collection of forest-fresh ingredients grows by the season. Guests can explore nut harvesting, maple syrup production, foraging for fiddlehead ferns, mushrooms and more. These outings teach and delight our guests with delicious food and one-of-a-kind experiences.
Want to learn even more about food forests? Our neighborhood mushroom and foraging expert, Eric Lester, offers private and group foraging walks specifically tailored to your interests any time of year. Contact the office in advance to schedule your tour.
Through seasons of planting and nurturing, we've revived a decades-old orchard where guests pick delicious organic fruit. What began as a neglected group of apple, pear and cherry trees now includes young Asian pears, peaches, quince, plums, figs and apricots. On warm days, stone fruit straight from the tree makes the perfect refreshment.
Something's abuzz at Goldberry Woods—it's our apiary, where our bees produce honey and help pollinate the diverse array of plants onsite. These friendly insects play a key role in the Farm's rich biodiversity.
At Goldberry Woods Farm, guests experience our founding values in action. We're committed to preserving our natural ecosystem and creating a space for plants, animals and people to flourish—by limiting waste and promoting sustainability. We also believe that diversity and inclusion are the cornerstones of a thriving human community.
We have several varieties of sweet hens including Barred Rocks, Buff Orpingtons, Easter Eggers, Golden Comets, and Light Brahmas. The ladies provide us with a dazzling array of colored eggs and endless entertainment! Their favorite food is leftover pancakes!
Farm To The Breakfast Table
Rise and shine: Each morning, we prepare a delicious breakfast with ingredients sourced from the Farm. Gathering around community spaces and sharing a meal is the perfect way to start your day. Savor delicious creations from our kitchen. Breakfast is included with your room at the inn, and cottage guests may join in if they make an advanced reservation.