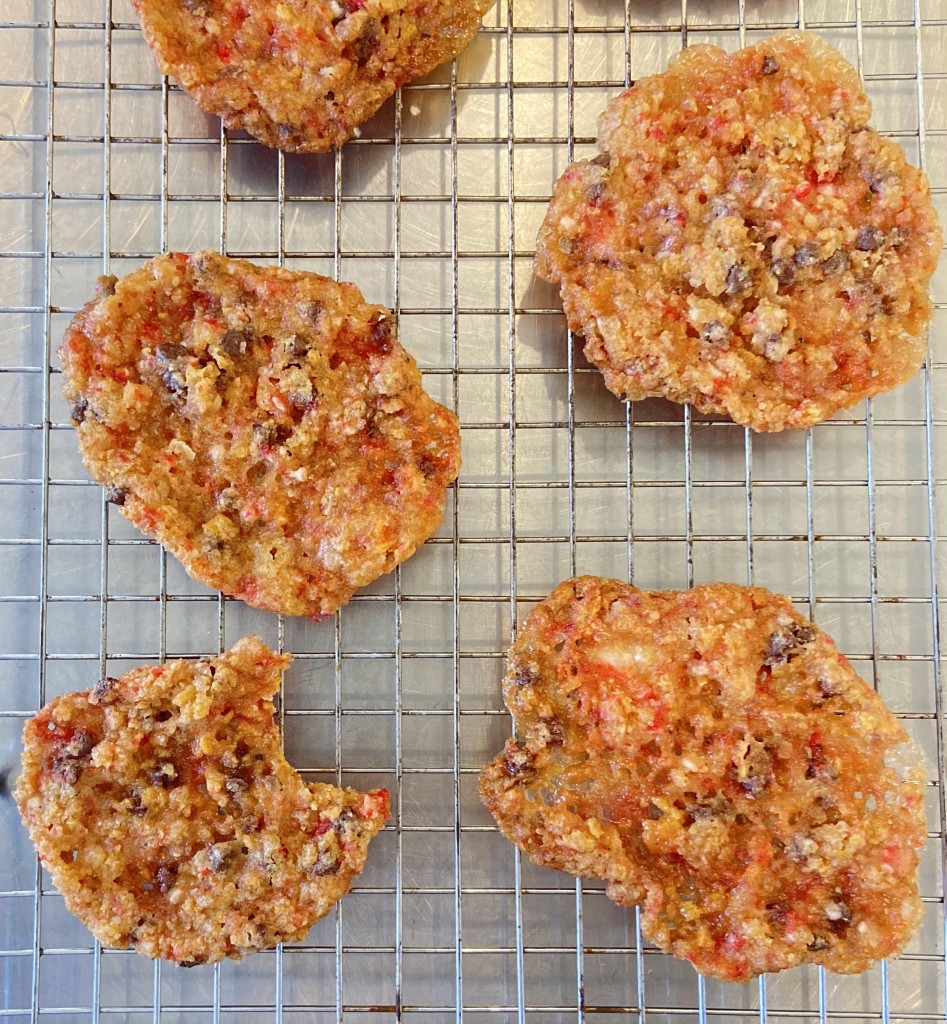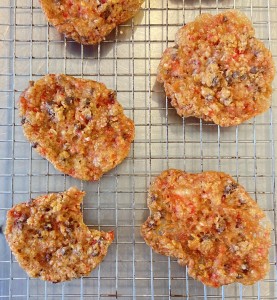 To celebrate National Cookie Day we wanted to share one of our Christmas Cookie finds! Julie found inspiration while leafing through a Family Circle Magazine, and this simplified version quickly became a favorite under the dome we keep in the common kitchen of the Inn. Guests and staff alike found themselves stopping more than once a day to grab these crispy, crunchy, lacy, florentine-like treats to get their taste buds in the holiday spirit!
Ingredients
1 Cup Room Temperature Butter
1 1/4 Cup Granulated Sugar
2/3 Cup packed Brown Sugar
1 Egg
1 Teaspoon Peppermint OR Vanilla Extract
1 1/2 Cups All Purpose Flour
1/2 Teaspoon Baking Powder
1/2 Teaspoon Baking Soda
1 1/2 Teaspoon Salt
5 Cups Cornflakes (quickly pulsed in a food Processor)
2/3 Cup Mini Chocolate Chips
18 Candy Canes Finely Crushed
1 1/4 Cups Mini Marshmallows
Directions
With a mixer, cream together the butter and sugars on medium high speed for 2-3 minutes.
Add the egg and extract and beat again until fully combined.
Combine the flour, baking powder, baking soda, and salt in a medium bowl. Add the dry ingredients to the butter mixture and mix on low. Once the mixture is evenly incorporated, add the cornflakes, chocolate chips, and crushed peppermint candy.
Lastly, stir in the mini marshmallows until just incorporated. You don't want to smoosh them.
Refrigerate dough for 1-2 hours before dropping 2 Tbsp balls onto a parchment lined baking sheet. They spread A LOT, so you can only put 6-8 on a standard cookie sheet.
Preheat Oven to 375 degrees.
Bake 12 minutes (depending on the size of your cookies).
Cool completely before removing from parchment paper.
Yields: 45  Cookies made with a 2 Tablespoon scoop