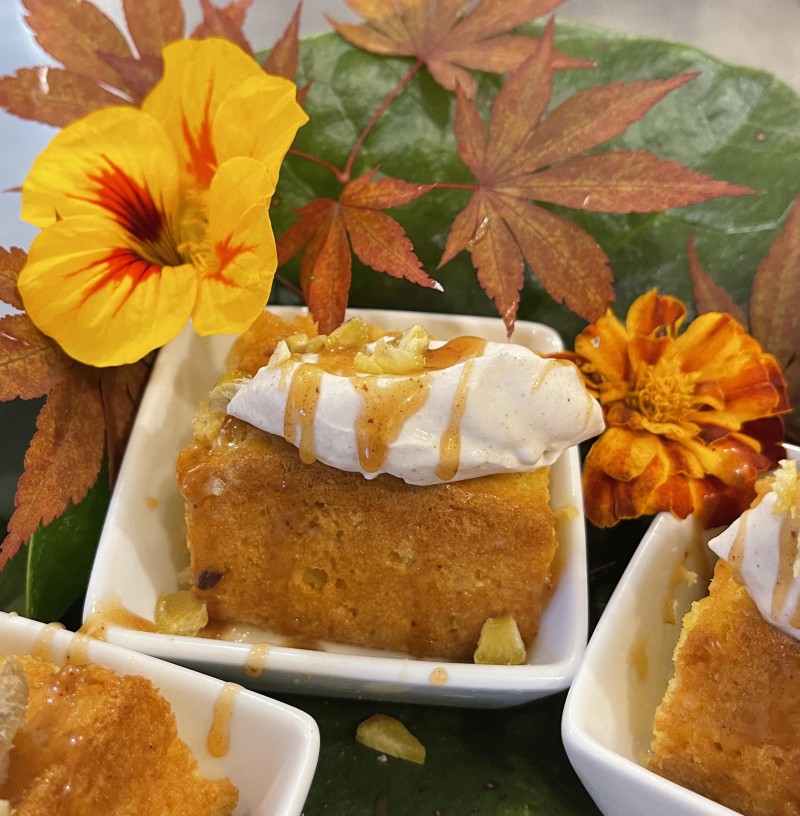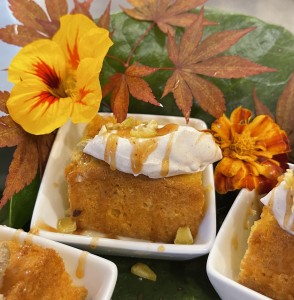 This recipe was adopted from the Pioneer Woman's traditional Tres Leches Cake. When the fall season rolls around we try to change up a lot of our recipes to reflect autumn flavors…Pumpkin Pancakes with Apple Cider Syrup, Apple Quick Breads, Apple Cider Oats….We knew we wanted to add pumpkin tres leches cake to our repertoire as soon as the first leaf hit the ground. We googled and searched for a pumpkin tres leches cake recipe to try, but none of them compared to the traditional recipe we knew we loved. Ree Drummond's recipe was a sponge cake with separated eggs whipped and then folded back in. We ultimately decided to do our best to alter her recipe to add in some pumpkin spice to match the season. Taking out the milk in the sponge ingredients and replacing it with pumpkin puree seemed to do the trick! We added some powdered pumpkin spice to our homemade Whipped Cream and crowned the cake with a dollop to serve with breakfast….Everyone loves an excuse to eat cake for breakfast!
Ingredients
1 Cup All- Purpose Flour
1 1/2 teaspoons Baking Powder
1/4 teaspoon Salt
5 Eggs
1 Cup Sugar, divided
1 teaspoon Vanilla
1/3 Cup Pumpkin Puree
1 Can Evaporated Milk
1 Can Sweetened Condensed Milk
1/4 Cup Heavy Cream
Directions
Preheat Oven to 350 degrees and grease a 9X13 pan.
Combine flour, baking powder, and salt in a bowl, whisk, and set aside.
Separate the egg whites and yolks into two separate bowls. Beat the egg yolks with 3/4 Cup of sugar on high speed until they turn pale yellow. Add the Pumpkin Puree and Vanilla.
Add the flour mixture to your Egg yolk mixture and fold together gently until combined.
Beat the egg whites on high speed until soft peaks form. With the mixer still on, add the remaining 1/4 Cup of sugar and beat until stiff peaks form.
Fold the Egg whites into the other batter very gently until just combined. Pour batter into your prepared pan and spread out evenly.
Bake for 35-45 minutes or until a toothpick comes out clean. The sides of the cake should also start to pull away from the sides of the pan. Let it cool.
Combine the condensed milk, evaporated milk, and heavy cream together in a bowl. Whisk until fully combined.
When the cake is cool, pierce the surface with a fork several times all over and slowly pour your milk mixture over the surface of the cake.
Let the cake stand anywhere from 1-24hrs to let the cake absorb the milk mixture.
Whip 1 Pint of heavy cream to desired whipped cream consistency. Add in 1tsp. vanilla, 2-4 Tablespoons of Powdered sugar, and 1/2 teaspoons of pumpkin spice until just combined. Use to frost the top before serving.
Try it paired with our Southwestern Style Strata!