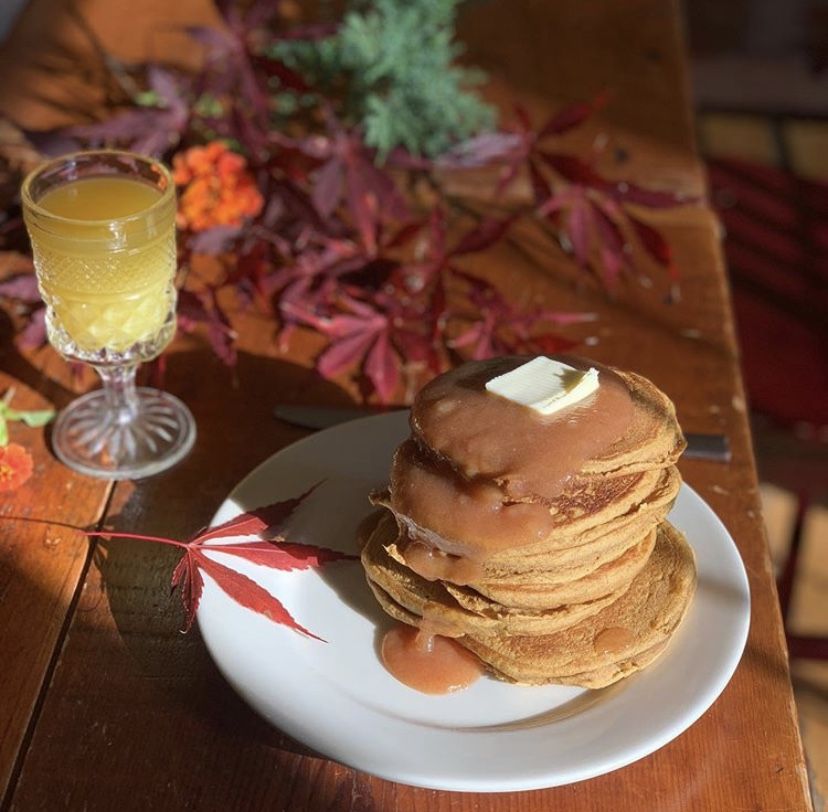 Winter is coming…but first, Pumpkin Spice everything! Even if Pumpkin Spice Lattes are not your go-to in the fall, these pancakes can help warm you up on a chilly fall day.
Served with our freshly made Apple Cider Syrup, these pancakes will have you drooling over their Autumn essence.
Here at Goldberry Woods, we roast and puree pumpkins and other winter squash from our own garden as well as other local farms to whip this batter up, and the Apple Cider that makes the syrup is purchased locally as well.  Embrace the season change and warm your soul with these pancakes that are sure to please even the toughest of critics!
Prep – 15min
Cook – 20min
Total – 40min
Ingredients
1 ½ Cups Milk
1 Cup Pumpkin Puree, canned is fine!
1 Egg
2 Tablespoons Vegetable Oil
2 Tablespoons Vinegar
2 Cups All-Purpose Flour
3 Tablespoons Brown Sugar
2 teaspoons Baking Powder
1 teaspoon Baking Soda
1 teaspoon Ground Allspice
1 teaspoon Ground Cinnamon
½ teaspoon Ground Ginger
½ teaspoon Salt
 Instructions
In a bowl or blender, mix together the milk, pumpkin puree, egg, oil and vinegar.
Combine the flour, brown sugar, baking powder, baking soda, allspice, cinnamon, ginger and salt in a separate bowl.
Stir both mixtures together, just enough to combine.
Heat a lightly greased griddle over medium high heat. Pour or scoop the batter onto the griddle, using approximately ¼ Cup for each pancake.
Let the tops of the pancakes start to bubble before flipping.Brown on both sides and serve hot.