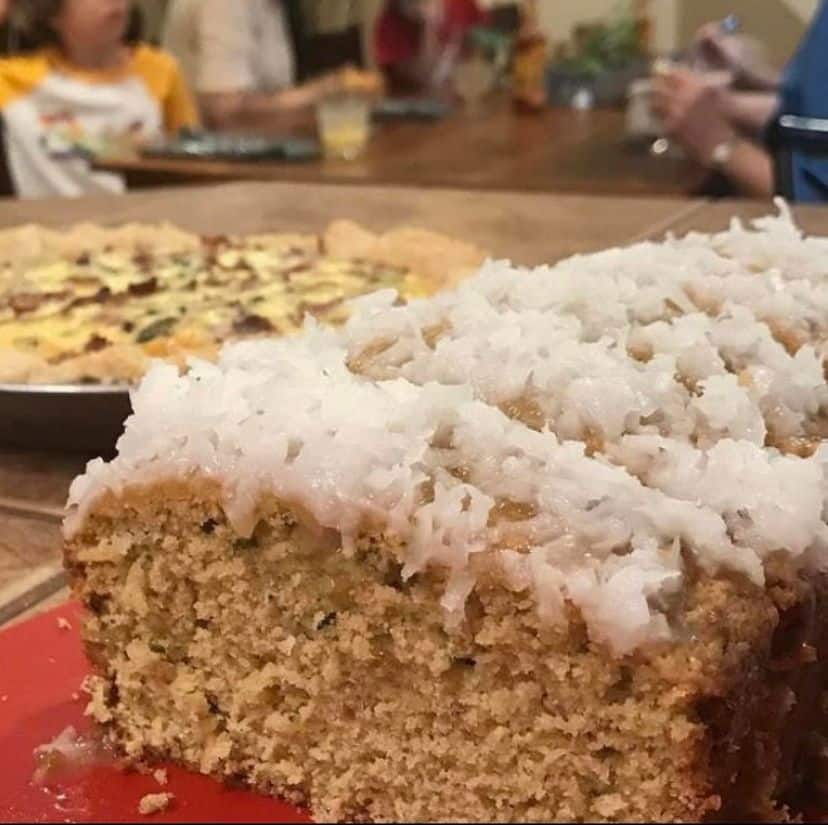 This tropical banana bread will transport you to an island during the snowy winter months. As much as we try to be farm-to-table, sometimes we get tired of preserved bounty from the pantry or freezer and need to taste a bit of summer again. With a hint of rum, lime, and coconut, this recipe will be everyone's new favorite twist on classic banana bread. Layer on the glaze to make this oh-so-indulgent treat that much sweeter.
Prep – 20min
Cook –  60min
Total –  1hr 20min
Ingredients
2 Cups whole wheat white flour (A-P works fine, too)
3/4 teaspoon Baking Soda
1/2 teaspoon Salt
1 Cup Granulated Sugar
1/4 Cup Butter, softened
2 Large Eggs
1 1/2 Cups Mashed, very ripe Banana (you can thaw frozen)
1/4 Cup plain yogurt
3 Tablespoons Dark Rum
1/2 teaspoon vanilla extract
1/2 Cup Flaked Sweetened Coconut
Handful of chopped walnuts if that makes you happy
Coconut Lime Glaze
2 Tablespoons Flaked Sweetened Coconut
1/2 Cup Powdered Sugar
1 1/2 Tablespoons Fresh Lime Juice
Instructions
Preheat oven to 350 degrees
Combine flour, baking soda, and salt in a separate mixing bowl. Whisk together. Set aside.
Beat granulated sugar and butter in a large bowl until well blended.
Add eggs, one at a time until each is well combined.
Add banana, yogurt, rum, and vanilla extract to mixer, and beat until blended.
Slowly beat in flour mixture on a low speed until just combined.
Stir in flaked coconut (and walnuts, if you like).
Spoon batter into a prepared 9″X5″ loaf pan (we line ours with a parchment sling) and bake for about an hour. A toothpick should come out clean when it is baked all the way.
Cool for 5 minutes, and then move to a wire rack.
While the bread is cooling, combine the coconut glaze ingredients. Drizzle over cooled banana bread.
Note: This bread tastes even better the day after it is made. If you prefer, follow steps 1-9. Wrap bread in foil and refrigerate overnight. Add the glaze just before serving. This recipe was inspired by Cooking Light, early 2000's.