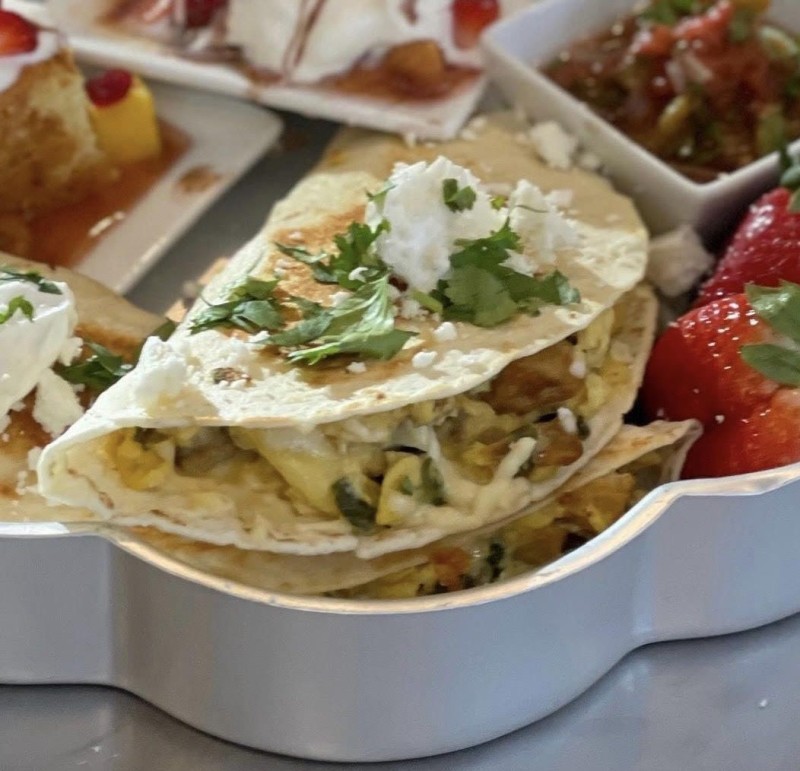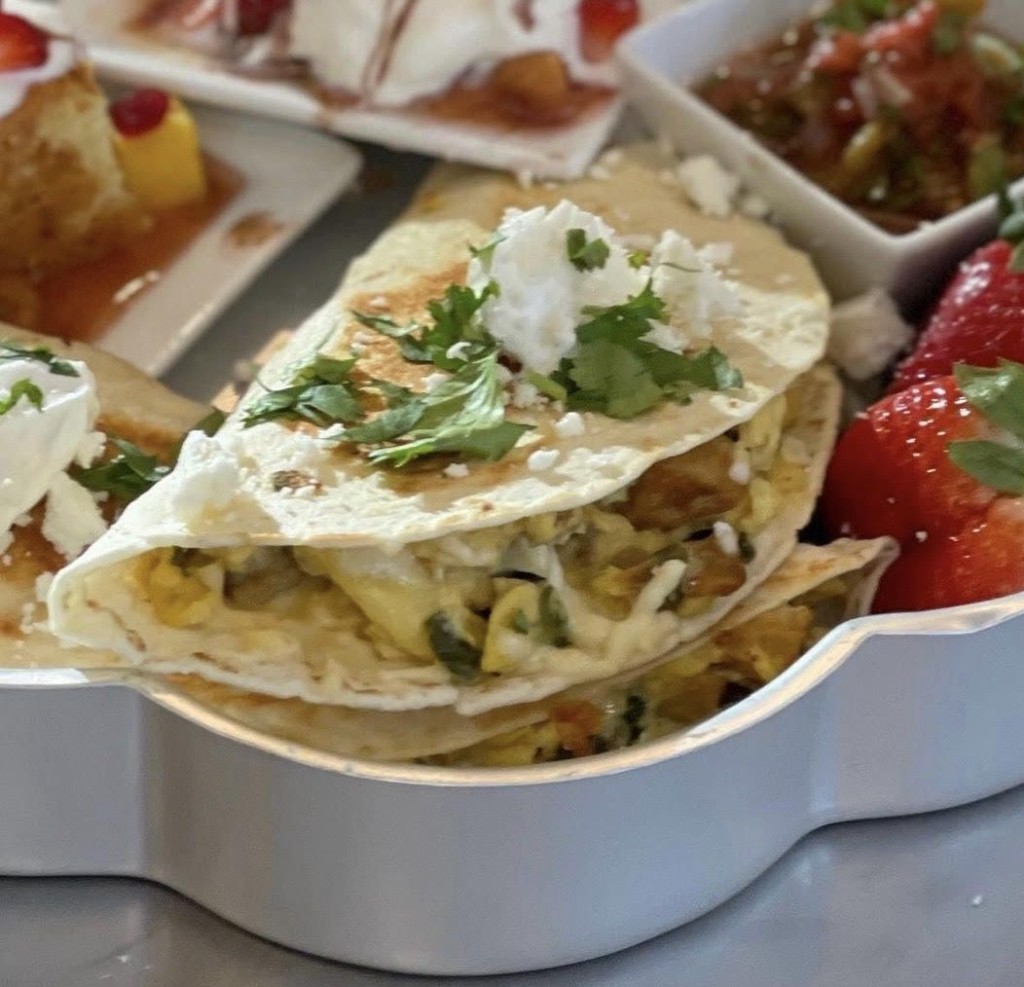 At Goldberry Woods, we love southwestern style EVERYTHING! From Strata to Egg Rollup to our Southwestern Style Stuffed Squash there's a lot to love about chorizo in your breakfast. We love to celebrate Cinco de Mayo with any and all of these recipes, but quesadillas make us feel extra festive. Plus, these babies are stuffed with vegetables and then topped with more vegetables, so you leave the table feeling ready to conquer the day. When people go out for Mexican food, you are sure to find a quesadilla on every menu, so enjoy our breakfast twist on this staple.
Ingredients
1 lb Chorizo
8  Large Flour Tortillas
12 Eggs
1/4 Cup Milk
Salt and Pepper to taste
1 Tablespoon Corn Oil (or any high temp oil)
2 Cups Quesadilla Cheese
2 Cups Cooked Vegetables of Choice (we like to include our Malabar Spinach, Roasted Ancho Peppers , and Onions)
Thinly Chopped Fresh Toppings (cilantro, red cabbage, radishes, chives or green onions, tomato, avocado, edible flower blossoms)
1 Cup Salsa
5 oz Queso Fresco, crumbled
4 oz Sour Cream
Directions
Saute your vegetables until crisp tender. While our favorite vegetables are listed above, the options are endless (corn, sweet potato, squash, black beans, mushrooms, just to name a few more…).
Preheat skillet to medium-high. Break up the chorizo (we prefer small pieces for this recipe) with a wooden spoon,  Allow to cook for about 3 minutes or until the meat starts to brown at the bottom of the pan before stirring. Cook completely. Drain exces fat.
Blend eggs and milk and add salt and pepper.  Add egg mixture to the chorizo and cook until barely set. The eggs will continue to cook in the tortilla and will help warm the cheese from the inside out.
On a cutting board, assemble all of your quesadillas so that you use up all of your fillings evenly. Lay the tortilla open flat.  Sprinkle quesadilla cheese on the whole tortilla.  Add eggs and veggies to one half of the tortilla and the fold in half.
Heat the oil in a medium-low skillet (the goal is to melt the cheese before over-browning the tortilla.)  Add the tortillas to the oil. Flip the quesadilla when the tortilla is golden brown and the cheese has melted on that side. Brown the second side.
Transfer to a plate. Top with fresh toppings, a dollop of sour cream, queso fresco, and a small dish of salsa.
Enjoy!
Makes 8 quesadillas.