In partnership with: Michigan Department of Agriculture & Rural Development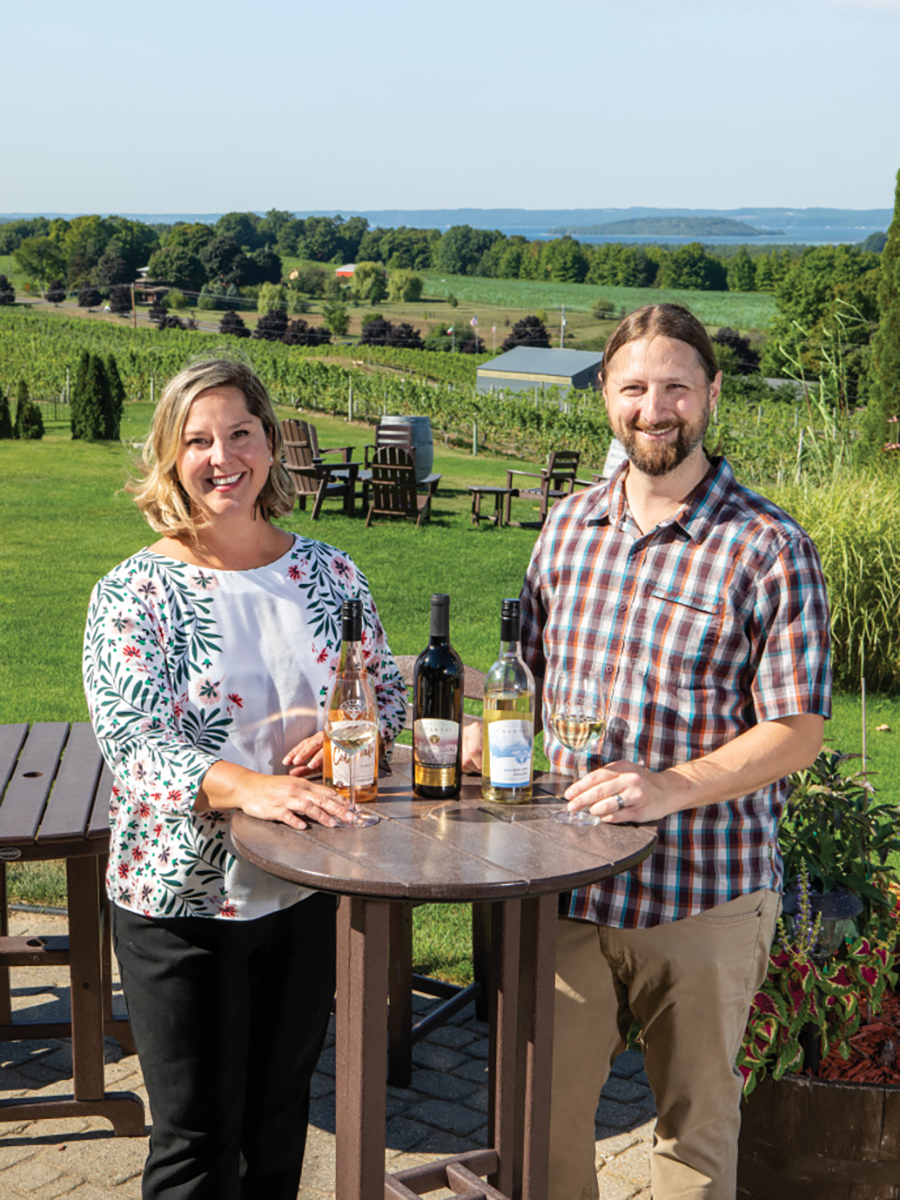 What do France, forest immersion and The Lord of the Rings have in common? All are themes of Michigan bed and breakfasts that combine agriculture and accommodation to teach lodgers about local foods and beverages and the work of making them.
Cheers to Agriturismo
"My dad was fond of using the term 'agriturismo' in its European form when we started, and this really was the first of its kind in the Midwest," says Marie-Chantal Dalese, president of Chateau Chantal Winery and Inn.
One of only a couple of Old Mission Peninsula Wine Trail wineries at its opening in 1993, the 75-acre venue was the first to have an inn. The French-style structure now has 12 guest rooms, all named for impressionist artists, and most master suites include a bedroom, bathroom, sitting area, and private patio or balcony, ideal accommodation for a great bed and breakfast experience.
From those rooms, guests look out upon the vineyard, where riesling, chardonnay, pinot grigio and other varieties grow. They are bottled as single varietals or blends. Chateau Chantal produces 35 different wines and spirits.
Variety doesn't end with wine selection.
"Being open daily, 362 days a year, we offer great seasonal variety with cooking classes, wine pairing dinners, blind tasting lunches, Jazz at Sunset and private events," Dalese says.
She finds joy teaching guests – regardless of their wine knowledge – about growing grapes, tasting wines or pairing them with foods.
"I'd love for people to know how much hard work goes into a bottle of wine, start to finish," she says. "It's worth considering next time you enjoy a glass."
U.P. for a Feast?
To get away from it all, the Milkweed Inn offers an immersive, off-the-grid experience in the Upper Peninsula wilderness.
Accommodations include three cabin rooms, an Airstream trailer and a glamping tent – with food as the focal point.
"The atmosphere of the wilderness, together with the food, is unlike anything I was able to do in my city restaurant," says chef Iliana Regan, co-owner with her wife, Anna.
About half the meals are made from foraged or homegrown foods, depending on the season. All protein is locally sourced, hunted or fished. The remainder comes from local farmers and purveyors.
Think that limits variety? Think again. Friday's five- to seven-course, family-style dinner is cooked over an open fire. Saturday offers morning pastries, followed by a savory breakfast, a two-course lunch, an afternoon charcuterie and a 10- to 15-course dinner. Then, the weekend wraps up with Sunday brunch. Regan says one guest described it as eating their way back to civilization.
Into the Woods
Named for a character in the Tolkien trilogy, Goldberry Woods follows the mission of giving rest and refreshment to tired hobbits – er, humans.
The eight-bedroom bed and breakfast, two vintage Avion campers and three cottages sit on 30 mostly wooded acres boasting vegetables, an orchard, chickens, bees and novelty berries.
Although nearby Union Pier offers shopping and attractions, owners Eric and Julie Haberichter say Goldberry Woods is its own destination. Book a stay, walk a trail, or grab a bike or kayak and traverse.
"Guests can explore the organic gardens and see their food growing, even in winter," Julie says. "It's a true garden- to-plate experience."
Or enjoy the culinary masterpiece of breakfast. The day's most important meal is prepared fresh from scratch at Goldberry Woods.