Get pumped people because Pride Week is almost here! Habor Country Pride has planed an amazing array of events between the days of June 1st and June 5th. We've listed out the details of each event below, including the GROM event hosted on our property! You'll notice that there is a wide array of activities to participate in, inlcuding several family-friendly options. The overarching theme this year is OUT of this World! If you want to be kept in the loop, sign up for Harbor Country Pride's emails or donate and support their efforts.
Music Night feat. Cosmic Country Showcase @ The Acorn Theatre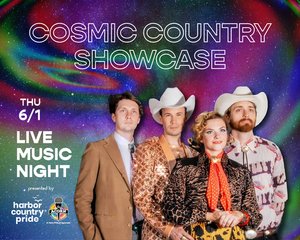 To kick off the events, they are having a Cosmic Country showcase with live music on Thursday, the 1st, at The Acorn Theatre starting at 7pm. It will be a homage to country variety shows like Grand Ole Opry with an extraterrestrial-psychedelic twist. Some of the best names in alt-comedy, drag performers, and other variety acts are showcased followed by a set from an original cosmic-country headliner. To secure your spot, buy tickets on their website.
Leather Night @ The False Front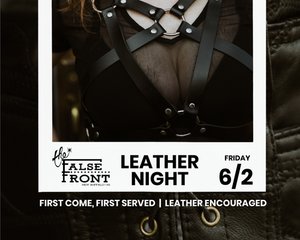 On Friday, June 2nd, The False Front is hosting Leather Night. Bust out your favorite whips & ass-less chaps for a night of leather & delicious liquids! This event is free to enter. If you would like more information, check out their instagram.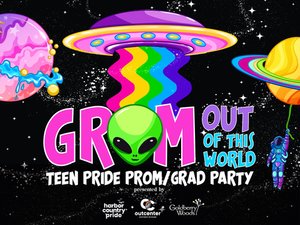 We are extremely excited to announce that Harbor Country Pride has chosen us to host GROM for the second year in a row! Julie has always held a special place in her heart for teens, so GROM is right up her alley. This event is essentially a fun-loving teen pride prom and grad party for the beautiful souls in our area. It will be held Friday, June 2nd, from 5-9pm in our barn. Come dressed to impress or to blast off into space – extraterrestrial clothing encouraged. Bring yourself, friends, dates, and significant others to celebrate your diversity in a safe safe without judgements, labels, or stereotypes. Snacks, games and music will be provided. Sign up for the event to receive a whole lot of love!
Big Gay Gallop: Family Fun Run/Walk @ downtown Union Pier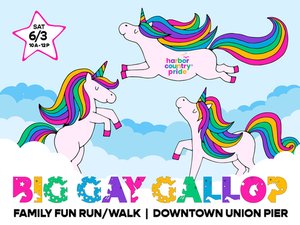 In downtown Union Pier there will be a Big Gay Gallop: Family Fun Run/Walk Saturday June 3rd from 10am – 12pm. Bring the WHOLE FAM decked out in rainbows and unicorns to gallop the bike path downtown Union Pier. Starting at Red Arrow Ride, up to Whistle Stop, and back to the new Red Arrow Inn! Participating businesses along the route will be open during the gallop with food, beverages, prizes & music! ALL AGES WELCOME! Sign up for this free event ahead of time.
Club Rainbown @ The Acorn Theatre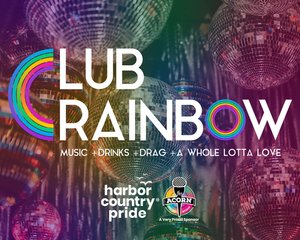 Saturday night, June 3rd, The Acorn Theatre is hosting Club Rainbow. It will be a celebration full of dancing and divas with drag performances by The Kunty Kittens and DJ Double E on the turntable! While the event promises to be fun, be aware that this is a standing room only event with very limited seating. Get your tickets now before they sell out!
Fluid Beach Yoga @ Cherry Beach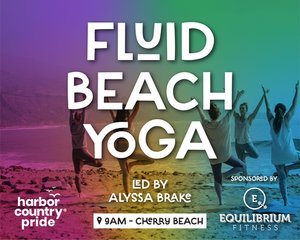 On the fourth, from 9-10am, there will be a beach yoga event led by Alyssa Brake. It's $20 per person, but ALL proceeds are being donated to Harbor Country Pride. Book now because they only have twenty spots available. It's important to note that parking is limited and you will have to bring your own mats, towel, and water. In the case that the weather turns, the event will be moved from Cherry Beach to Equilibrium Fitness Three Oaks studio. 
Wigs & Pumps Drag Brunch @Susan's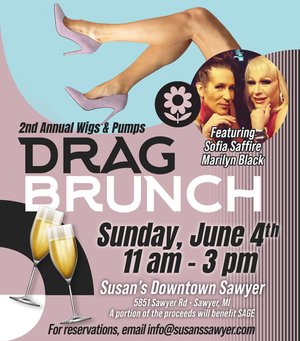 Wigs & Pumps Drag Brunch will be held at Susan's in Sawyer on Sunday June 4th. There will be an 11am and 1am seating. This 2nd Annual Drag Brunch will feature Sofia Saffire & Marilyn Black, and DJ Tess on the turntables. Enjoy a fabulous family style brunch & drinks galore! Reservations are required, so email info@susanssawyer.com if you're interested.
Queer Makers @ Community Taproom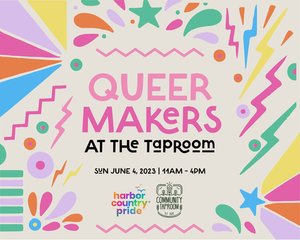 From 12pm – 4pm on Sunday, June 4th, there will be a queer makers event at the St. Joe Community Taproom. Local queer makers, artist, and vendors will be in attendance. Local libations will alos be available for purchase, and good vibes are certainly welcome. Check out the Taproom's website for more information.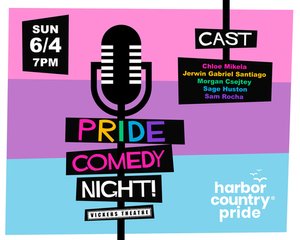 Pride comedy night is happening at 7pm on Sunday, June 4th, at the Vickers Theatre in Three Oaks. Joing them for a night of LAUGHING YOUR HEELS OFF! Lets face it, being queer comes with its challenges and having these LGBTQIA+ comedians bring some light relief to these challenges can be somewhat therapeutic (and hilarious of course). Grab your tickets for $15.
Queer Questioning: Pride Trivia Night @ Sideyard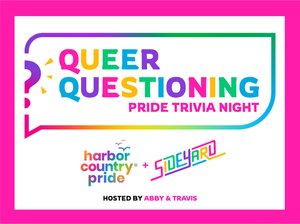 Monday, June 5th, from 7-9 Sideyard in Sawyer will be hosting an LGBTQIA+ themed trivia night. You can show up with a pre-established team or make new friends and join one when you arrive. It's free to play, and beverages and snacks will be available for purchase. Prizes and swag will be awarded to the winners! Take a look at Sideyard's instagram for more information!
Where to Stay to Best Experience Pride Week
If you want to be centrally located during Pride Week in Habor Country, we have a few more openings left at Goldberry Woods! Book your room direct and experience all the incredible events put on by the lovely people of Habor Country Pride in collaboratioion with local businesses.