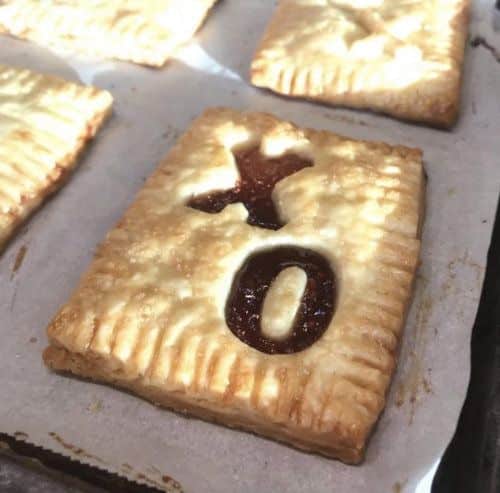 Homemade Pop Tarts? Yes, please! Here at Goldberry Woods, you can pick out your favorite cutters and use this recipe to make festive hand pies for every holiday and occasion! We particularly love making these little love letters for Valentine's Day!
Ingredients
Desired Amount of Pie Crust – 1 crust will typically make about 2-3 3″x4″ pop tarts.(check out our recipe here, or feel free to buy store bought).
Jam of choice (we love our pretty homemade cherry jam for V-Day!)
1 egg
1 Tablespoon of Water
2 Tablespoons Turbinado Sugar (optional)
Directions
Roll out pie crusts to 1/4 inch thick. Using a pizza cutter or cookie cutters, cut your pie crust in 3″x4″ rectangles. You want to make sure you are cutting a top for every bottom. You can even get creative with it. If you have smaller cutters, you can cut peep holes through your top layer of crust as well, to look like our example photo.
For each pop tart, spread 1 Tablespoon of jam over your bottom piece. Make sure to leave about 1/2 inch around the edges to get a good seal.
Carefully match up your top and bottom pieces of crust for each pop tart. Crimp the edges firmly with a fork.
Whisk together your egg and water to form an egg wash. Using a pastry brush, brush egg wash over each pop tart. Gently sprinkle the tops of each hand pie with turbinado sugar if desired and bake at 425 until thhe pastry is starts to turn golden brown and the jam begins to bubble, approximately 10-15 minutes.