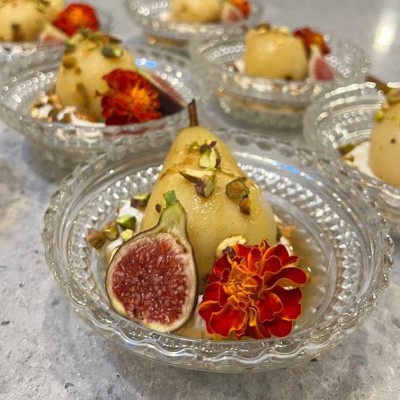 Our favorite Poached Pears are actually our own pears. We change up the poaching liquid in this recipe for whatever we are feeling that day, but keep the basic essence of it. You really just need aromatic sugar water. We love to use warm spices, sometimes lavender. While the original flavor combination of honey and ginger is always a big hit, it is nice to know that this can be easily changed for whatever mood you are feeling. Even if you find yourself short a bottle of wine, water, juice, or more simple syrup are also possible replacements.
Ingredients
One 750ml bottle of sweet wine (Moscato works great)
2 Cups Simple Syrup (1:1 ratio of sugar and water)
1 Cinnamon Stick
2 Tablespoons Honey
3/4 – inch piece of Ginger (peeled and finely chopped)
1 Vanilla Bean (split lengthwise)
6 Small, firm Pears (you want them to be slightly underripe and peeled)
Directions
In a large pot combine all the ingredients, except the pears, and bring them to a light boil/simmer. Once your pears are peeled slowly lower them into the poaching liquid and simmer for 10-20minutes (depending on size and ripeness) until they are tender. They will need to be stirred or turned occasionally.
Once your pears are tender, remove them and allow them to cool. We have found that it is best to stand them up on their bottoms. Depending on how long they sit, whatever side they sit on can flatten as they cool.
Continue to simmer the poaching liquid until it thickens and reduces by about half. This might take 15-25minutes. This can be cooled and stored to drizzle on your pears, but is also great on pancakes and other desserts.
To serve, place each pear on a small serving dish. We love to serve ours on a bed of great yogurt, drizzled with the poaching liquid syrup and some chopped pistachios. You can also serve them ala mode with some vanilla ice cream! YUM!