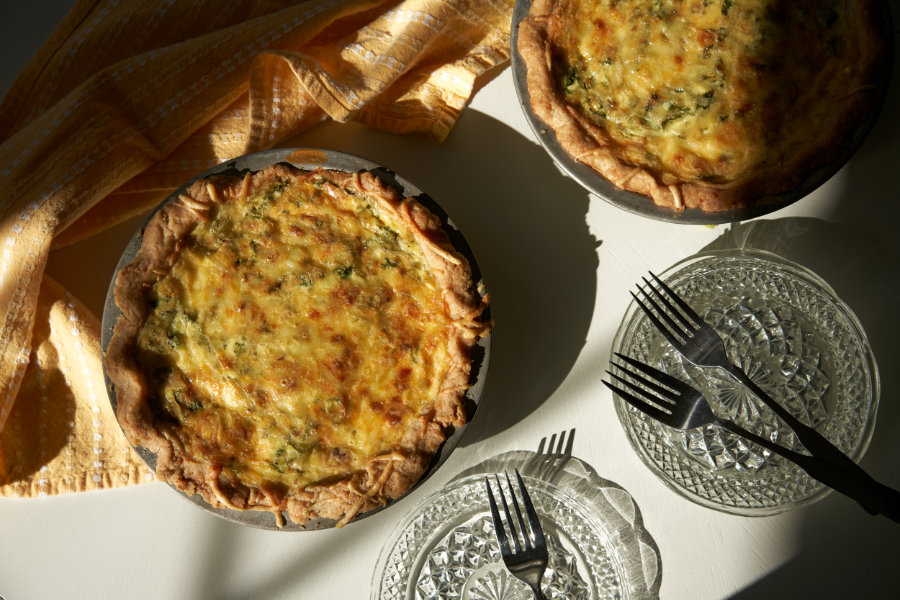 Adapted from our very well loved and falling apart, Joy of Cooking, we use this pie crust recipe for our favorite quiche, homemade pop tart, regular sized pies, and so much more! Here at Goldberry Woods, we change the ingredients to accommodate the dietary needs of our guests. And when we get around to making pie crusts, we do it in BULK. Calling it a pie crust marathon, it is a sight to see when three of us our processing, wrapping, and packaging up pie crusts until we reach 50-60 in one sitting! We freeze them so that we can pull them out as we need them. Recipe makes two 8-9″ crusts
Ingredients
11.875 ounces All Purpose Flour (~2.5Cups)
1 Teaspoon Sugar
1 Teaspoon Salt
1 Cup Solid Fat of choice, frozen (We use 1/2 Cup of Butter for richness and 1/2 cup of Lard for flakiness. We use 1/2 cup butter and 1/2 cup vegetable shortening for our vegetarian guests)
3-6 Tablespoons of Ice cold Water
Directions
In the bowl of a food processor pulse the flour, sugar, and salt until combined.
Cut the fat into small chunks. Pulse in food processor until the fat is mostly the size of a pea.
Add 3 tablespoons ice water to food processor. Pulse until combined. Continue to add water, 1 tablespoon at a time, pulsing after each addition. The crust is done when it all comes together on one side of the food processor. There should still be small blobs of fat all throughout the crust.
Remove dough from food processor carefully to avoid the blade. Divide dough in half. Shape each into a flat disk and wrap in plastic wrap. Let rest in the refrigerator at least 30 minutes, or freeze them in a ziploc bag for up to 6 months. This recipe is for a top and bottom of a pie, so you will end up with enough for two crusts!