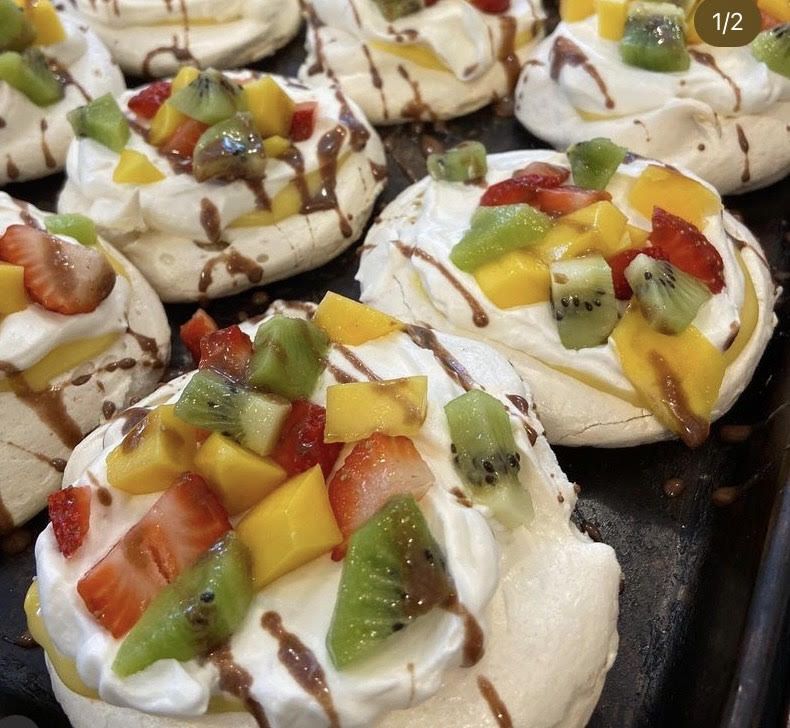 The Pavlova originates from Australia and New Zealand. Its fluffy layers or meringue and whipped cream are thought to replicate that of Anna Pavlova's Ballerina Tutus. Typically served as one big dessert for the holidays, we have adapted it into smaller individual portions that we serve for breakfast. If you can't have sweets for breakfast, why eat breakfast at all? We love to top this delicate meringue with homemade lemon curd, homemade whipped cream, and little jewels of our favorite fruits.
Ingredients:
4 Large Eggs Whites
1 1/4 Cups White Sugar
2 Teaspoons Cornstarch
1 Teaspoon Vanilla Extract
1 Teaspoon Lemon Juice
1 Pint Heavy Whipping Cream
1 teaspoon vanilla, 1/4 cup powdered sugar (optional)
Fruit of your choosing
Lemon Curd (You can make Martha Stewart's Lemon Curd, or purchase from the store)
Directions:
Preheat oven to 300 degrees. Draw a 9 inch circle onto parchment paper to make one large pavlova OR you can choose to draw smaller circles if you wish to make individual serving ones. This recipe makes about six 5″ circles spaced about 2 inches. Your parchment paper will then be used to your baking sheets (pencil side down).
Using a stand mixer, beat egg whites until stiff but not dry. Add your sugar slowly about 1-3 Tablespoons at a time, making sure each addition is well blended before adding more. When you are finished your egg whites should look very glossy.
Carefully fold in Cornstarch, Lemon Juice, and Vanilla Extract.
Using a spoon or piping bag, work the mixture onto the parchment paper inside your drawn circle(s). Spread the mixture so the outside edge is built up slightly, leaving a depression in the center (so it can hold your lemon curd after baking).
Bake in the preheated oven until the meringue is dry and sounds hollow when tapped with your finger. This should take about an hour to bake.
Once finished, cool on a wire rack.
Using your stand mixer and whisk attachment, beat the Heavy Cream until stiff. If you like your whipped cream a little sweet, beat in about a 1/4 Cup of Powdered Sugar and 1 teaspoon Vanilla.
After your meringue(s) has cooled , remove it from the parchment paper, and place it on your serving plater. Fill the center with lemon curd. Top with whipped cream, and then your sliced fruit (we like our farm fresh berries, but the Aussies traditionally serve it with kiwi)
Serve immediately or within 3 hours. The meringue will slowly start to dissolve due to the fat in the curd and whipped cream.