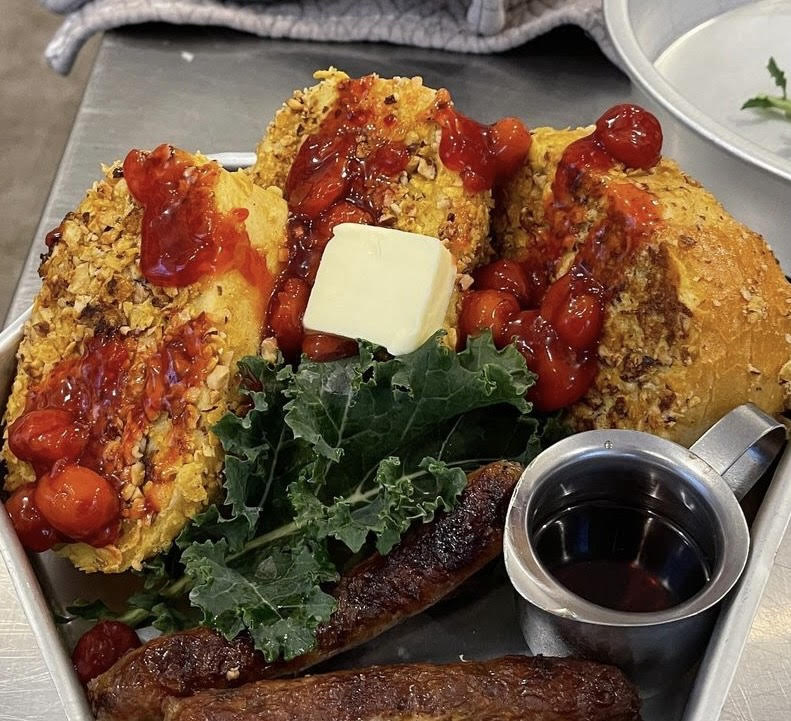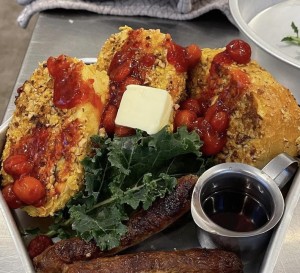 This Crunchy French Toast has become an elusive  treat here at Goldberry Woods (maybe because of the mess it makes of the kitchen), but when we dig this recipe out, it is a crowd favorite! Crunchy on the outside and oh so creamy and delicious on the inside, we then top it with a Goldberry Woods fruit compote, butter, and real maple syrup to make it an all around hit!
Ingredients:
1 Pound of Challah or Italian Bread
2 Tablespoons of butter or Cooking Spray to grease griddle
Filling
5 Ounces of Cream Cheese
3/4 Cup of your favorite Jam/Jelly/Preserve
Egg Batter
2 Cups Milk
8 Eggs
2 Teaspoons Vanilla
1/4 Teaspoons Almond Extract
2 Tablespoons Sugar
Breading
3 Cups Corn Flakes
6 Ounces Chopped Almonds
Directions:
Slice the bread into 1 inch Slices. Then, using a small knife, cut an incision into the middle of each slice of bread about 3/4 of the way through to make a pocket for the filling.
Combine your cream cheese and preserves to make the filling. We like to do this with a food processor or stand mixer. Then, stuff the cream cheese filling into the pockets in your bread using a piping bag. If you don't have one, fill a ziploc bag with cream cheese filling, cut off a small corner of the bag, and squeeze the filling into the pockets of your bread. You want to make sure each slice of bread has at least 2-3 Tablespoons of filling in it.
Whisk or blend the egg batter ingredients together: milk, eggs, vanilla, almond extract, and sugar. Pour into a shallow bowl or dish.
Dip and submerge each slice in your egg batter for at least 30 seconds or until bubbles stop coming out.
Make the breading. Crush the corn flakes in a food processor until they make coarse crumbs. Then, crush the almonds in the food processor until they are the same size as the corn flakes. Processing them separately is actually a necessary step. If ground together, the cornflakes with turn to dust before the almonds turn to crumbs! Combine the almond and cornflake crumbs in a separate shallow dredging dish.
Dredge each slice into the corn flake mixture, pressing firmly to make sure the crust adheres to both sides of the bread.
Coat a 300 degree skillet or griddle with butter. Cook 3-4 minutes on each side until golden brown.
Layer a cooling rack on top of a cookie sheet. As slices come off the griddle transfer them onto the cooling rack in a single layer. Place them in the oven at 325 degrees to finish cooking in the middle (since the slices are so thick). Keep them in the oven for at least 10 minutes.
Serve them with a fruit compote, maple syrup, or both!