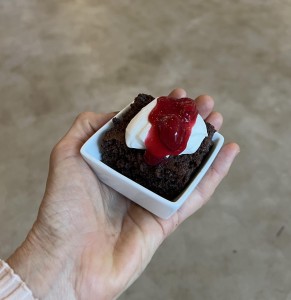 Here we go again with a variation on one of our favorite recipes. We will RAVE about the original Ree Drummond tres leches cake recipe all day, every day, but we keep finding ways to mix it up and try something new. From the Original recipe to Pumpkin to this chocolate variation,  we will keep serving our guests cake for breakfast because this cake comes out PERFECT every time we make it.
Ingredients
Cake:
2/3 Cup All – Purpose Flour
1/3 Cup Cocoa Powder
1 1/2 Teaspoons Baking Powder
1/4 Teaspoon Salt
5 Eggs (separated)
1 Cup Sugar
1/3 Cup Milk
1 Teaspoon Vanilla Extract
Soaking Mixture:
1/4 Cup Heavy Cream
1 14oz Can Sweetened Condensed Milk
1 12oz Can Evaporated Milk
Whip Cream Topping
1 Cup Heavy Cream
2 Tablespoons powdered sugar
1/2 teaspoon vanilla
Directions:
Preheat Oven to 350 degrees.
Grease a 9X13 cake pan
In the bowl of a stand mixer beat the egg yolks with 3/4 cup sugar until it is light yellow.
Add milk and vanilla and beat until just combined.
Sift the flour, baking powder, cocoa powder, and salt.  Add the dry materials to the egg yolk mixture and fold gently until fully incorporated. Set aside.
In a separate bowl, beat the egg whites on high speed until soft peaks form. Gradually add the remaining 1/4 sugar on high speed and beat until stiff peaks form.
Gently and gradually add the egg whites to your other bowl and fold in as gently as possible until everything is incorporated together.
Transfer batter to your prepared 9X13 cake pan and bake for 30-45min.
While the cake cools, prepare your soaking mixture. In a bowl whisk together heavy cream, sweetened condensed milk, and evaporated milk.
When your cake is cool, gently poke holes all through the top with a fork and then slowly and evenly pour soaking mixture over the whole cake.
Leave cake to soak anywhere from 1-24hrs. We leave ours in the fridge overnight.
Beat the heavy cream, powdered sugar and vanilla until soft peaks form (we won't judge you if you just buy it in the spray can!) We top our cake with homemade whipped cream and a fruit compote or fresh berries.