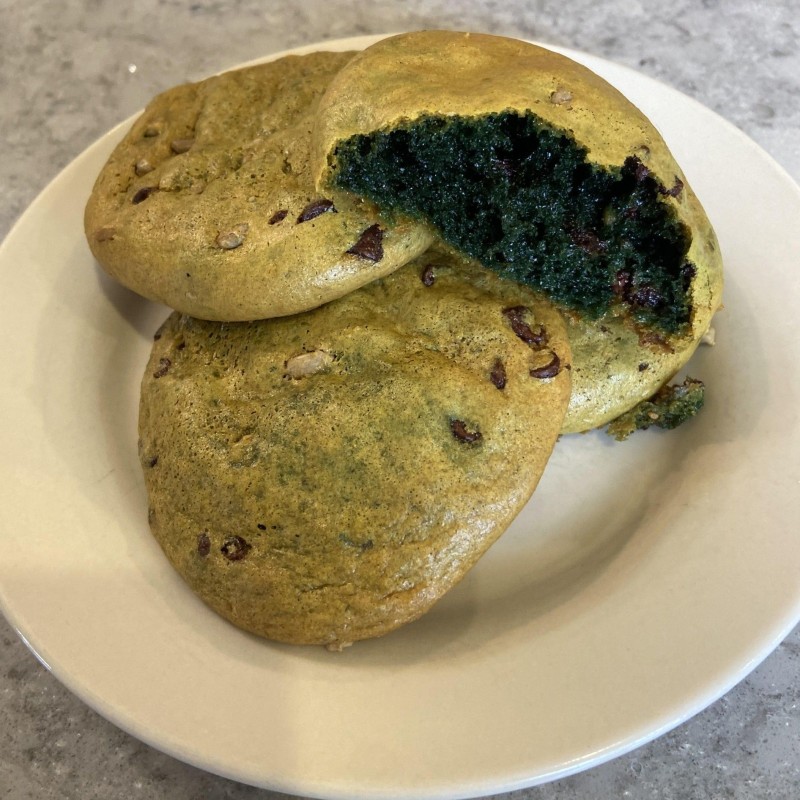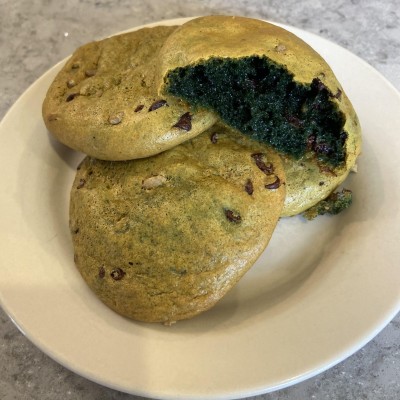 We knew we wanted to do something fun and new for April Fool's Day this year. I stumbled upon these when one of the home cook bloggers did a video. I am skeptical most of the time, but I needed to try these myself. With some air exposure the dough will start to turn green while it sits in the fridge overnight, but the surprise is that these cookies should ideally look like normal chocolate chip cookies on the outside, but on the inside they turn GREEN! Surprise! But why do they turn green? The reaction is a chemical one, where the chlorogenic acid (chlorophyll) in the sunflower seeds reacts with the Baking Soda. This recipe can be fun to surprise some unsuspecting friends on April Fools Day or bring some green to a Saint Patty's Day Party! These babies are gluten free and use all natural sugars. They are not too sweet and have an undercurrent of sunflower seed flavor.
Ingredients
1 Cup SunButter (I used the crunchy one to add some texture)
1/2 Cup Maple Syrup
1 Egg
1/4 Teaspoon Salt
6 Tablespoons Gluten Free Flour (We like King Arthur 1:1) Or All Purpose Flour
1 Teaspoon Baking Soda
1/2 Chocolate Chips
Instructions:
In a large bowl combine the SunButter, Maple Syrup, and Egg. Mix until cohesive.
Add Salt and flour of choice. Mix until no dry spots remain. The dough will be stickier than most cookie doughs.
Fold in the chocolate chips.
Refrigerate dough at least 1 hour. Overnight is preferable.
Preheat Oven to 350 degrees and line a baking sheet with parchment paper.
Scoop 1 Tablespoon sized balls onto the baking sheet. Placing them about 2-3 inches apart.
Bake 10-14 Minutes.
Let them cool before breaking them open to reveal the green inside!
Store them in a sealed container.