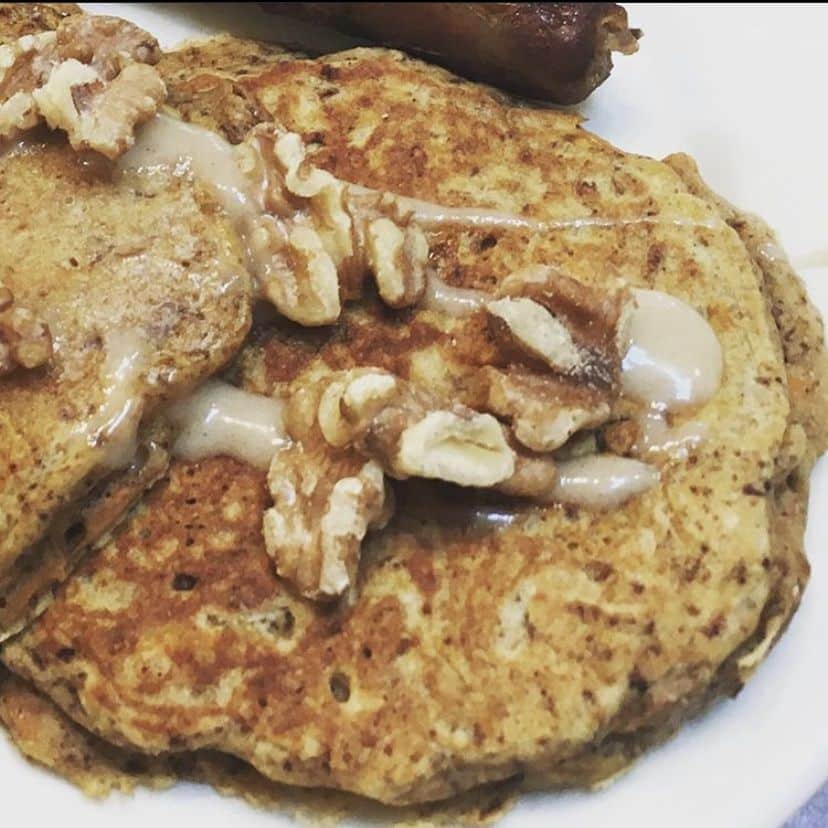 The warm and spicy carrot cake pancakes we make here at Goldberry Woods have been adapted from a waffle recipe Julie found. The first time around, she actually FORGOT she was supposed to be making waffles, cooked them as pancakes, and realized they were better that way! The spices get bloomed in the browned butter, which is truly an enlightening experience that will always make your home smell amazing, and your soul might just bloom along with them. The beaten egg whites really lighten these up, but if you are having a lazy morning, you can skip this step!
When we finally get to harvest our carrots at the Farm, we shred most of them and store them in the freezer in 1 ½ – 2 cups portions to make this recipe even easier to bring together. Paired with the browned butter bourbon glaze recipe, the combination is almost always guaranteed to please everyone.
PREP – 30min
COOK –  30min
TOTAL –  1hr
Ingredients
2 Cups Whole Wheat White Flour
1/2 teaspoon salt
2 Tablespoons sugar
1 ½ teaspoons baking soda
1 teaspoon cinnamon
1 teaspoon nutmeg
1 teaspoon allspice
1 ¾ Cups buttermilk
2 eggs, SEPARATED!
4 Tablespoons butter
½ teaspoon vanilla
1 ½ Cups finely grated carrots
Cooking spray or butter for griddle
For topping:
1 Cups raisins
1 Cup walnuts, chopped
Instructions
BLOOM THE SPICES. (seriously it will make this recipe 100x better than if you didn't). Heat your 4 tablespoons of butter in a saucepan over medium heat until melted. Continue to cook, swirling pan, until butter is light brown and has a faint aroma of nuttiness (browned butter…. It's a magical thing). Should take about 2-5 minutes. Add in your spices and continue to cook, stirring constantly for about 15 more seconds. Remove from heat and cool to room temperature.
Combine the flour, salt, and baking soda in a large bowl.
Mix together the buttermilk, and egg yolks (we have found that a blender works really well to combine wet ingredients). Stir/blend in the spiced butter, vanilla, and sugar.
Stir wet ingredients into dry ingredients.
Beat the egg whites in a separate bowl with an electric mixer (making sure the bowl is as clean as possible), until soft peaks form. Fold whipped egg whites into batter.
Add carrots, walnuts, and raisins (walnuts and raisins can be optional).
Before ladling batter onto the griddle make sure you have thoroughly preheated it and sprayed it with cooking spray/ spread with butter. (we have found that electric griddles cook pancakes best when held between 300 and 350 degrees).
Ladle pancakes at desired size (⅓ -½ Cup of batter).
Turn pancakes only when you begin to see bubbles start to rise to the surface.
Serve pancakes warm with Browned Butter Bourbon Glaze, syrup, or your favorite pancake toppings.
Adapted from Willowbird Baking
Browned Butter Bourbon Glaze
This frosting has very quickly replaced every cream cheese frosting I ever use. It is sweet and tangy and has that hint of bourbon which will just instantly warm you from the inside out. It is the star of these pancakes and will be a crowd pleaser on any pastry or baked good you use it for.
Adapted from metread on allrecipes.com
Ingredients:
¾ Cup butter, divided
8oz cream cheese
1 teaspoon vanilla
½ – 1 fluid oz bourbon (don't substitute whiskey. Just don't)
4 Cups confectioners sugar
⅓-½ Cup heavy cream
Instructions
Make the browned butter by melting ½ cup of butter in a saucepan, occasionally stirring/ swirling until it starts to turn light brown and gives off a nutty aroma. Could take up to 15 minutes.
In the bowl of a stand mixer put the remaining butter and cream cheese. Pour the browned butter into the bowl, cover with a plate or lid and let stand for about 3 minutes, letting the warm browned butter start to melt and soften the other butter and cream cheese.
Starting on a slow speed, use the stand mixer to start to combine the melted browned butter and softened ingredients. With the mixer on a low speed, pour in the vanilla and bourbon until mixture is smooth.
Gradually add in the confectioners sugar and heavy cream. You will need all of the sugar, but the amount of heavy cream you use will depend what consistency you would like your frosting (we normally put in anywhere from ¼-½ cup because we use our frosting as a glaze).