By David Johnson
News Editor
Oct 8, 2014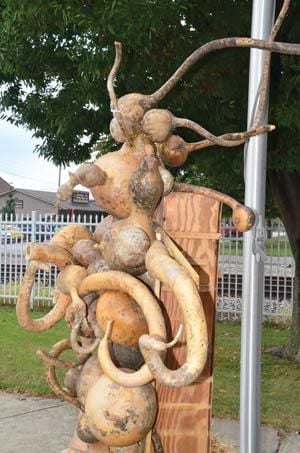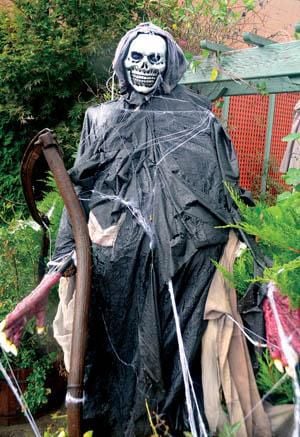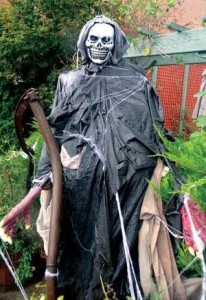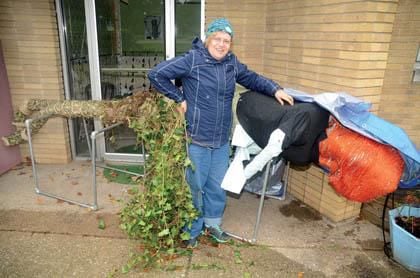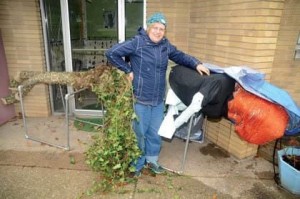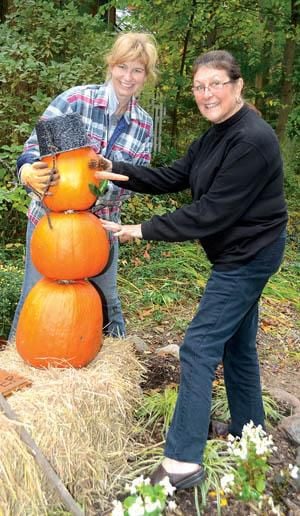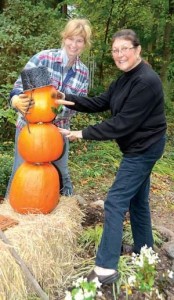 NEW BUFFALO — Scarecrows and art will meet in Harbor Country during the Columbus Day weekend Harvest Days celebration.
At Goldberry Woods Bed & Breakfast, 9902 Community Hall Road, Union Pier, the scarecrow theme is "Fall Into Winter."
Eileen Schneider and her daughter, Julie Haberichter, created a snowman-style scarecrow (or "snowcrow") made up of pumpkins, sticks for arms, a carrot nose, a jalapeno mouth, and coneflower eyes (lumps of coal don't stick too well to pumpkins).
Goldberry Woods Bed and Breakfast is run by Eric and Julie Haberichter. Julie said her mom also was the spark behind a Harvest Days scavenger hunt trail on the 28 acre property that includes nearly half a mile of frontage on the Galien River.
"We put items out in our woods (including antiques and a brass bed flower bed) so people can come and hike the trails. If they find all of the items out there they get a little prize when they finish," she noted.
Vida Kluko led the effort to assemble a tall scarecrow ("He's about 14 feet tall") at Green Spirit Farms in New Buffalo.
Kluko said "Free Man," as the scarecrow was being called during the construction project, consists of chicken coop wire, swim noodles, papier and fabric maché, ivy arms, a grapevine-clad body and a size 5X shirt. She was busy crocheting a pumpkin-colored head cover for the scarecrow as of Oct. 3.
Two of this year's scarecrows were made by Barb Presti of Three Oaks (with help from Rick Tuttle).
She used gourds — a lot of gourds — from the Dinges Fall Harvest farm to assemble the Gourd Man at Blais Rustic Chic in Three Oaks while she used a scythe she had at home for the spooky Grim Reaper scarecrow standing guard in front of Fitzgerald's in downtown Sawyer.
"I try to use as much natural stuff as possible," she said.
Tom McReynolds said this year's Harvest Days scarecrow at Sawyer Home & Garden Center, 5865 Sawyer Road, will be a little more traditional that last year's towering terra cotta pot assembly, with overalls, a hat and other standard scarecrow garb planned.
Megan McReynolds (Tom's daughter) said Sawyer Home & Garden Center has participated in the Scarecrow Contest since the beginning, with her grandmother and store co-owner Linda Patejdl designing the entries for most of that time and chairing the Scarecrow Contest up until this year.
Kim Pruitt of the Harbor Country Chamber of Commerce, chairperson for this year's scarecrow effort, said "autumn installations" also are in the mix for 2014.
"We decided to expand it a little bit," she said.
The entries will be rated by both a group of judges and via votes from Harvest Day-goers (votes can be emailed to chamber@harborcountry.org).
"We have a real creative group so there are always interesting structures. It isn't usually a typical scarecrow … they reflect the business quite often," Pruitt said.
The 19 Scarecrow Contest locations are listed as follows: (New Buffalo) Green Spirit Farms, 18300 U.S. 12; Tom Gold Construction, 27 S. Whittaker St.; David's Delicatessen, 30 N. Whittaker; New Buffalo Times at Customs Imports, 139 N. Whittaker; Local, 424 E. Buffalo St.; (Union Pier) Craig SMith Gallery at Gordon Beach Inn, 16220 Lakeshore Road; Goldberry Woods Bed & Breakfast, 9902 Community Hall Road; St. Julian Winery, 9145 Union Pier Road; (Harbert) Trestle Furniture, 13400 Red Arrow Hwy.; (Sawyer) Sawyer Antique Mall, 12825 Red Arrow Hwy.; Fitzgerald's, 5875 Sawyer Road; Sawyer Home & Garden Center, 5865 Sawyer Road; MI-vacation.com, 5682 Sawyer Road; (Three Oaks) Journeyman Distillery, 109 Generations Dr.; Acorn Theater, 107 Generations Dr.; Pleasant House, 9 N. Elm St.; Blais Rustic Chic, One Oak St.; Elm Street Bistro, 8 S. Elm St.; (Niles) Fernwood Botanical Garden, 13988 Rangeline Road.
Maps showing the scarecrow locations are part of the Harbor Country Harvest Days brochure, which is available throughout the area or can be downloaded at www.harborcountry.org.