Heaven Right Here: Pleasures and Treasures of a Michiana 'Staycation'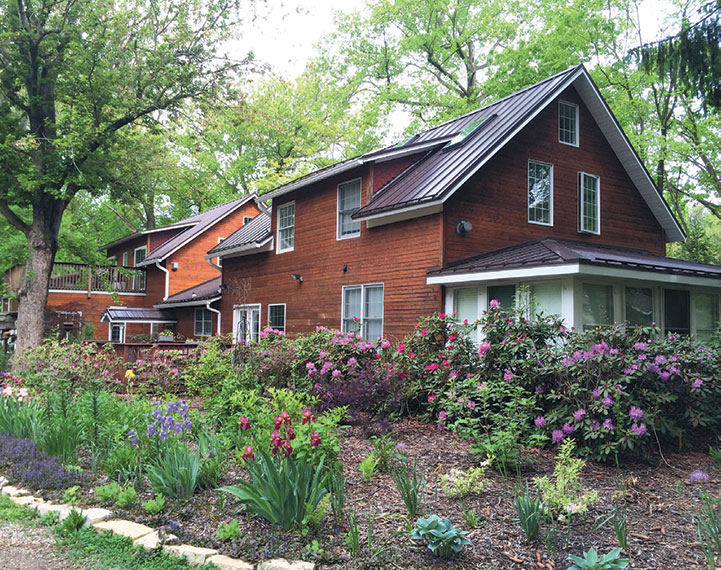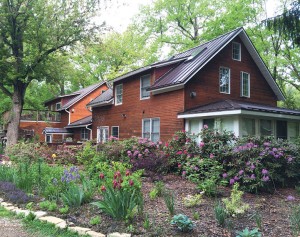 For your next vacation, consider a trip in your own backyard. Charming inns with menus that serve food straight from the farm, garden—and even the woods—make Southwest Michigan perfect for a Michiana staycation.
DIVERSIFIED HARVEST
Tilling the soil of their organic microfarm is just one way for Julie and Eric Haberichter, owners of the 28-acre Goldberry Woods Bed and Breakfast in Union Pier, to share the abundance of Southwest Michigan.
"Our goal is to provide our guests with the best foods from this area," says Julie, displaying a photo of the large morel mushrooms she and her mother foraged from a nearby copse of trees. Tiny fiddlehead greens, curled like a seashell, are also wild gathered from Goldberry Woods' wetlands, for the dining room table.
Engineers by profession, the Haberichters, along with their three children, several years ago chose to move from Chicago to Harbor Country—an area of Southwest Michigan dotted with delightful villages, orchards, beaches and farms—and open Goldberry Woods just a short walk from Lake Michigan.
Their plans for biodiversity and seasonal food are extensive, and much has already been put in place. An apiary provides honey; an orchard with the addition of Asian pear, quince, fig and apricot trees yields a plethora of fruit for jams, jellies, fresh pies and simply for good eating; and a hoop house extends the growing season. Short-term plans include a sugar shack for turning maple sap into syrup and harvesting the recently planted berry bushes with both the common and more esoteric such as lingonberries, aronia, juneberries, gooseberries, sea buckthorn and goji berries.
"It's hard work making this sandy soil good for growing," says Julie, "but we're excited about it."
HISTORIC HOSPITALITY AND A DASH OF NORWEGIAN
Farm to fork is also the mantra at Dave's Café, nestled in a sunny- side enclosed porch at the Lakeside Inn, a bed and breakfast on the National Register of Historic Places. Dating back to the 1860s, when it was called Pleasant Grove, the inn is believed to be the oldest continuously operating resort in Southwest Michigan. Located across the street from their private Lake Michigan beach, the rambling three-story building with its great views, original art dating back several owners ago, large fi replaces and big comfy chairs has always been an idyllic spot for vacationers.
As for the food, chef Dave Hensrud describes his cuisine as American using the techniques of classic French with "a little touch of Norwegian as well."
The latter is based on the dishes he learned from his mother and grandmother growing up in North Dakota just an hour from the Canadian border. In ways, this traditional cookery fits in well with Southwest Michigan, once home to a large Scandinavian population—there's even a local pizza place with Swedish pancakes on the menu. Hensrud makes the Norwegian version of these super-thin pancakes and was excited about the two lefse turners his mother had recently sent to him. "You can't buy them around here and to flip lefse you need something much thinner than a pancake turner," he says.
Both inns are perfect spots for relaxing or for exploring Harbor Country beaches, antique stores and the area's many craft food and beverage makers.
EAT AND DRINK. RELAX. REPEAT.
The rolling hills of Southwest Michigan are dotted with wineries. Download a map and hit the trail. Or sign up for a tour with Grape and Grain Tours, which takes visitors to area wineries, breweries and distilleries.
If artisan suds are more your thing, almost every town and village has its own craft brewery. Try Tapistry (4236 Lake Street in Bridgman), Arclight (544 N. Main Street in Watervliet) or Greenbush Brewing Company (5885 Sawyer Road in Sawyer). Sawyer is a bustling village with art galleries, a one-of-a-kind clothing design store housed in a 1950s-era fire station, and the Sawyer Garden Center (5865 Sawyer Road), which features weekend food demos in the summer.
Not far away, in historic Three Oaks, visitors can order wine or house-crafted beer as an accompaniment to the British-inspired, locally sourced savory pastries at Pleasant House (9 N. Elm Street); stop in at 14 S. Elm Street for smoked meats and sausages at Drier's Market, a butcher shop run by the same family for over a century; and peruse the edibles at Froehlich's (26 N. Elm Street), which has been featured on the Food Network. Not to be missed is Journeyman Distillery at 109 Generation Drive, where they make organic and kosher spirits.
Make sure to save time for a jaunt to Local New Buffalo, an artisanal meat market at 424 E. Buffalo Street that sells house-made charcuterie, plus terrific cheeses, breads and a carefully curated selection of area produce. And don't forget to bring along a cooler or two to pack a picnic (we recommend dining al fresco at Fernwood Botanical Garden at 13988 Range Line Road, Niles) or for "souvenirs."
FESTIVAL PAIRS FOOD WITH MUSIC
Taking the concept of New Orleans with its seemingly never-ending music venues and great food to Harbor Country, chef John Moultrie, the former owner of several restaurants and jazz clubs in Chicago before moving to New Buff alo, is organizing the second annual iRock Jazz Festival—a coming together of local foods and musicians.
"For the event, we're turning many of the area's restaurants into music clubs for two days," says Moultrie, winner of 11 Silver Platter Awards and named "Top African American Chef" by the Chicago Tribune.
In addition to jazz, Moultrie says this year musical styles such as Latin, folk and soft blues will be performing at such popular restaurants as Timothy's and Frankie's in Union Pier and Brewster's Italian Café, Dave's Delicatessen and Bentwood Tavern in New Buffalo.
When Moultrie was in the restaurant business, his specialty was New Orleans–style food. So it makes sense he can seamlessly take what works so well in the Crescent City and make it happen here.
"The iRock Jazz Festival was so popular last year we're expanding to two days this year," says Moultrie. "It's not only perfect for those who love music and food but also showcases the special cultures of the towns and villages in Harbor Country."
iRock Jazz Festival is free and runs May 29–30. iRockJazzFest.com.