Fall colors are here and next week promises sixty degree days! The days are perfect for an adventure, and our local wineries are OPEN!  This is the ideal time of year to  stay with us; lower rates, fall colors, AND our fall promotion!10% Off: Stay any 2 nights Sun-Thurs night and receive 10% off your total stay. Mention 10%OFF in the Special Accommodations section of your online reservation.
2 Plus Tuesday: Stay 3 nights with a Tuesday and receive 50% off the 3rd night. Mention 2+TUES in the Special Accommodations section of your online reservation.
All discounts will be applied to your balance.
You are also guaranteed the lowest rate by booking direct with us!
Grape Harvest in Harbor Country: Eat, Drink, Pick, and Be Merry
Harvest Time in Harbor Country means the seasons are changing; as the beaches begin to empty, visitors look for the next best thing to do. Ask a local, and we will tell you all about how laid-back Southwest Michigan is in the Fall and Winter. You find your favorite wine, build a fire, wrap up in a blanket, and watch the leaves and snow fall. Our rooms here at Goldberry Woods include fireplaces, large jacuzzi tubs, and a property lush with Fall colors ready to explore.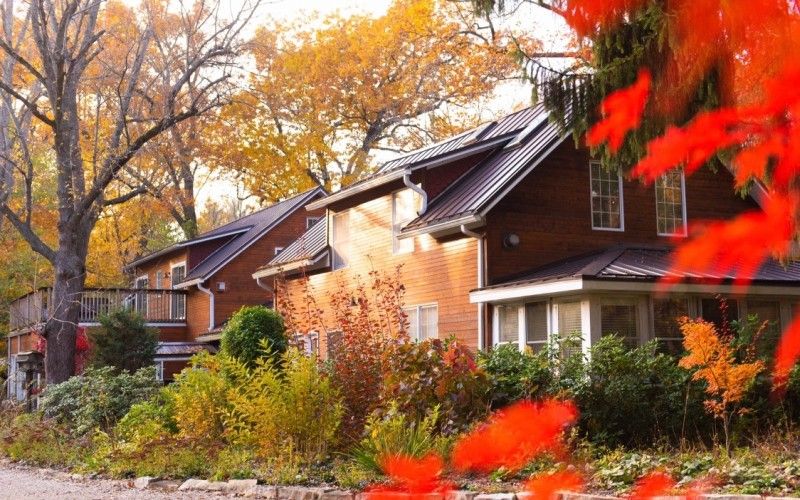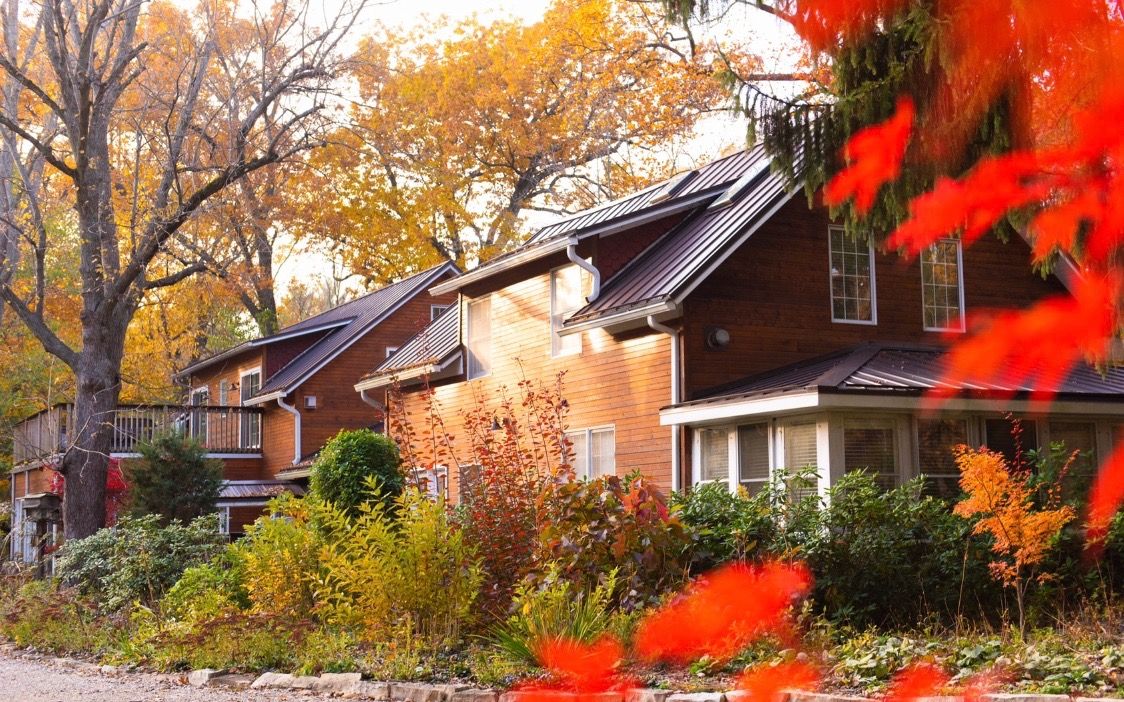 Let's focus on finding the perfect wine to set this scene. Everyone has their own taste when it comes to wine, and Harbor Country's wineries all have their own vibe. Couples can spend a day visiting multiple tasting rooms and find one that resonates with them. Stay at Goldberry Woods, and we will be sure to fill your bellies with a proper breakfast before sending you out to try the area's finest wines!
Fall colors are peaking around Goldberry Woods right now, and it couldn't be a better time to visit! Julie and I realized we hadn't been to some of the wineries in awhile, and we decided to set out and try some new wine this week.   Each winery we went to catered to us with the utmost hospitality. Winery hopping during the week guarantees a very personalized experience while avoiding the weekend crowds.
Here at Goldberry Woods, we have our recommendations, but we highly suggest venturing out on your own to find what you like best. The Lake Michigan Shore Wine Trail is a great place to start to map out your journey and to plan your visit. If you want to fully indulge in the wine experience, there are plenty of shuttled Tours and Transportation Services to get from one winery to the next safely. Grape and Grains Shuttle Rentals caters to your group size and itinerary to make sure you visit the wineries of your choosing.  We also have limited Uber services and a great local taxi company called ACab!
While the big and popular wineries can be intriguing, doing your research before you come can help. Make sure to check websites or social media to figure out each winery's COVID Policies as some wineries are requiring reservations. Each winery has their own atmosphere, and finding your perfect fit is part of the adventure. Round Barn, now it's own empire including Free Run, Tabor Hill, and Public House, is the biggest winery that has an outgoing personality with the ability to host many people and live entertainment. On our "research trip," Julie and I received great service and hospitality at Hickory Creek, where we chatted up Jamie the Senior Tasting Consultant and met the owner and vintner, Adam, in a small and cozy tasting space. Lemon Creek is a great example of Farm to Bottle. If you go out for a tasting, depending on the time of year you go, you can also have a wonderful U-Pick experience.
Southwest Michigan lines up latitudinally with southern France and Germany, yielding sweeter whites akin to Rieslings. However, many wineries are creating drier whites and rosés. Julie really likes the heavier reds at Domain Berrien. Everyone will be able to find something they like with many wineries now serving small plates, mixed drinks, distilled spirits,  and craft beer.
Our seedless table grape vines here at Goldberry envy the vineyard grapes since they will never get made into wine, but we love to plop them on your breakfast plates!  We strive to do our own wine country justice allowing our guests to add on a bottle of local wine with their reservation. We even started offering a bottle of sparkling wine with our breakfasts in case any of our guests want to start off their morning with a Mimosa! When the pandemic is finally over, we look forward to getting back to our wine and snacks Happy Hour in the Inn, rotating wine from our local wineries so our guests can get a taste of what these wonderful wineries have to offer.