When we bought Goldberry Woods in 2012, we had an ambitious vision to create a sustainable, biodiverse, interactive, and organic Modern Farm Resort.  We spent nine years working on improving our soil, building eco-friendly spaces, and tackled growing whatever we could! Year after year, we chipped away, finally feeling like we have accomplished one of the goals we set out to achieve. In our heads we had a vision…well many visions that have slowly evolved overtime to become the Market Stand of our dreams.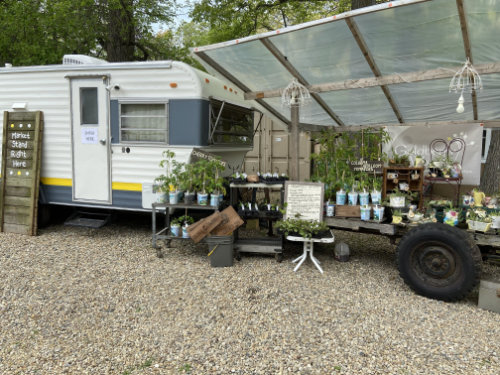 Julie always envisioned having a Market Stand on the Property or to participate in a local Farmer's Market. So, in 2016, began the process that would get us there.  Though the stand's beginnings were humble, our efforts were valiant. In the beginning we just liked the idea of the fun and interactive addition to our farm. We repurposed a funky old pallet trailer and loaded it with planters full of flowers and herbs, extra seedlings, homegrown succulents in vintage containers, and some spare tomatoes from our field.
But success did not quickly take root. With no shelter, the succulents found themselves in little swamps with every rainstorm. Raccoons ate the our tomatoes! (I guess we should have known better than to leave them out at night. lol). With lack of advertising, many of the other products just didn't sell.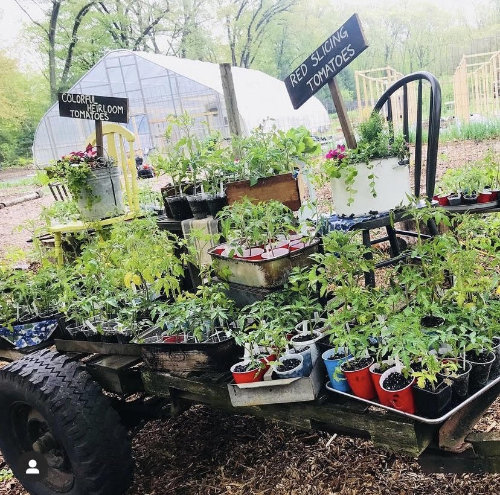 In 2019, Eric helped us to create a canopy for the  Market Stand. The Barn got built and the Market Stand got a new location. For the next two years, we would add more produce and a fridge to not only keep them chilled but also safe (only to thwart us again by overcompensating for the heat and freezing our produce). In 2020, we seriously started to add flowers to the mix, but they wilted in the hot sun and were often surrounded by curious bees, now making shopping a risky adventure.
We needed an enclosed, covered, and temperature controlled space that was also fun and attractive.   We wanted to sell more than just the bounty of our fields and include convenience items for our guests as well as local art, which would require more than our plastic canopy. We wanted hashtaggable cuteness!
Sitting right by the chicken coop stood our Vintage Ag Intern Camper, but she needed an entirely new roof and air conditioning. Julie started watching camper rehab youtube videos and ordered materials. Almost everyone had a hand in tearing off that roof, replacing three joists and the plywood, and putting on the new roof.   The Market Stand got yet another new location and a new look, our original funky old Market Stand trailer now only displays heat-loving plants and stands a companion to the Camper.
Now finished and after less than a full season in use, we could not be any happier with how this Market Stand has turned out, and how well it is doing! Our guests love it, and we have already seen more traffic than we ever had. Business is Booming! The old Farmer's Market adage "Pile it HIGH and Watch it FLY"  has become our motto as we harvest veggies out of the field daily.  With years of keeping and preserving our harvest for ourselves, we are so happy to now to share the fruit (and vegetables!) of our labor with the community and guests.
But what does this mean for the future of Goldberry Wood's Market Stand??? We will always hope to continue the evolution. And it is a trailer….who's to say we won't tow it to a Farmers Market one day? ;)
~Carly Kveton