When we bought Goldberry Woods in 2012, we had an ambitious vision to create a sustainable, biodiverse, interactive, and organic Modern Farm Resort.  We spent nine years working on improving our soil, building eco-friendly spaces, and tackled growing whatever we could! Year after year, we chipped away, finally feeling like we have accomplished one of the goals we set out to achieve. In our heads we had a vision…well many visions that have slowly evolved overtime to become the Market Stand of our dreams.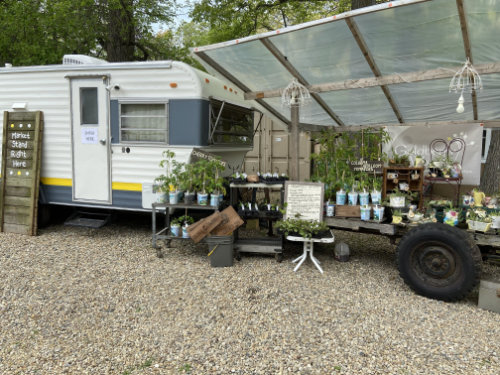 Julie always envisioned having a Market Stand on the Property or to participate in a local Farmer's Market. So, in 2016, began the process that would get us there.  Though the stand's beginnings were humble, our efforts were valiant. In the beginning we just liked the idea of the fun and interactive addition to our farm. We repurposed a funky old pallet trailer and loaded it with planters full of flowers and herbs, extra seedlings, homegrown succulents in vintage containers, and some spare tomatoes from our field.
But success did not quickly take root. With no shelter, the succulents found themselves in little swamps with every rainstorm. Raccoons ate the our tomatoes! (I guess we should have known better than to leave them out at night. lol). With lack of advertising, many of the other products just didn't sell.