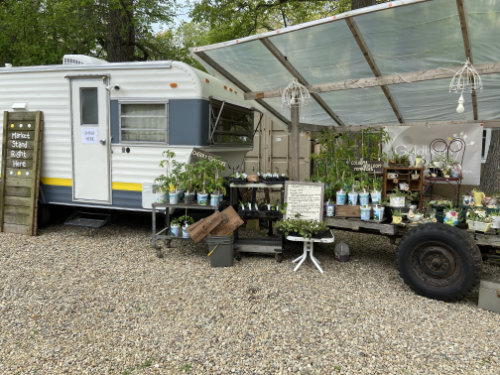 Summer is right around the corner, and we are stocking our new and improved Market Stand with our annual goodies and then some! Our Market Stand has been in the making for four years, and each year seems to be a new evolution. We have expanded, added new produce, and gained a better understanding of how to provide fresh produce and flowers to our guests and visitors.
In 2018, we opened the Market Stand and sold tomato plants, planters filled with succulents, annual blooms and herbs, and limited overflow produce.
The next couple years our Market Stand got a new location (because our beautiful pool and barn got put in), a canopy, a fridge, and so much more. Julie's amazing succulents were flying off the shelves, and she could hardly keep up. We started to understand just how much of our produce we could sell, too! The Market Stand was getting stocked daily with lettuce mixes, heirloom tomatoes, zucchini, cucumbers, herbs, rhubarb, and cut flowers!
Adding up all the hard work and lessons learned by all the Farm Interns over the years, we decided that we really needed an indoor space to protect our fresh veggies and flowers! Our vintage camper has just been renovated with a new roof, air conditioning, and a Goldberry theme.  Our original cart will remain for our sun-loving merchandise.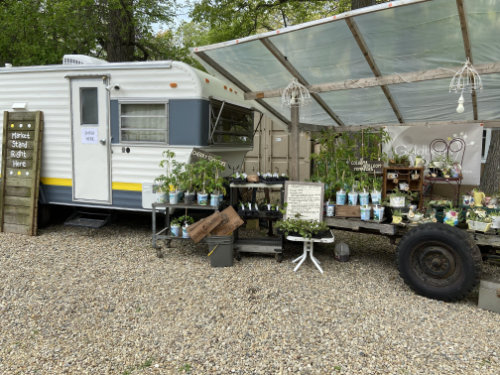 Expect to see many more items at Goldberry's Market this year. Guests and Visitors will be able to purchase our usual produce items such as rhubarb, cucumbers, heirloom tomatoes, cucamelons, lettuces, and herbs. But also be on the lookout for tomato and strawberry plants, Julie's hand propagated and planted succulents, other flowering plants, small convenience items, Farm Fresh Eggs, and Goldberry Woods Merchandise.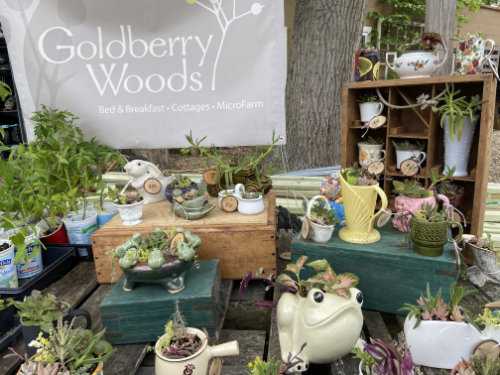 The Vintage Camper with also be home to photographs taken by Carly Kveton (our Assistant Innkeeper), and Beach Glass Artwork by Designs by Dodge. Moving forward we hope to continue to find other small venders we can add.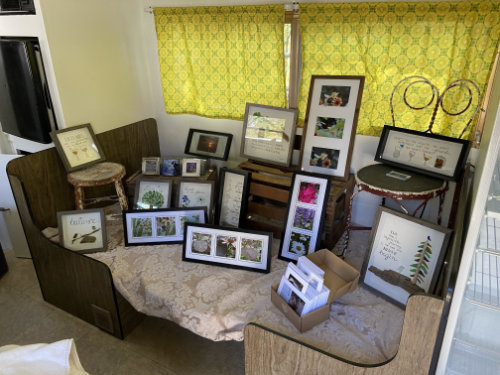 We can't wait to see everyone come by this season!
In other news… Our lovely vintage camper gal has no name, and we have been wanted to name her for a few years now….Help Us give her a NAME!
~ Carly Kveton